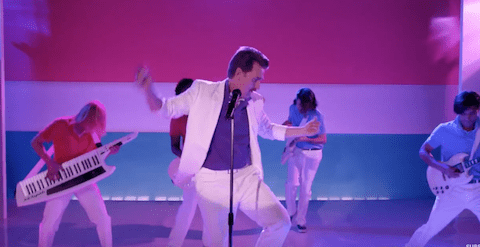 There's one more reason to be tuning in to the hilarious Crazy Ex-Girlfriend on The CW. Last night, Darryl Whitefeather (played by Pete Gardner) came out as a proud bisexual, and, as is the fashion on this show, he did it with hysterical musical bombast.
In an '80s inspired homage to the likes of Robert Palmer and Huey Lewis, Whitefeather declared his bisexuality while confronting many of stereotypes bisexuals face. The song includes some excellent lines like "Now some may say, 'Are you just gay? Why don't you just go gay all the way?' But that's not it cuz bi's legit! Whether you're a he or she, we might be a perfect fit."
The character's coming out has been a few weeks in the making, as feelings developed between Whitefeather and "White Josh" (so named to distinguish himself from the titular character's obsession, also named Josh). Their budding romance is not without its fair share of conflict, as the May-December pair navigate not only a discrepancy in age, but also experience out of the closet.
According to an interview with The Daily Beast, the show's creators worked closely with GLAAD to ensure they were portraying Darryl's bisexuality in a meaningful way. Bisexuals are underrepresented on television, especially when you consider they make up the majority of the LGBT community. While there have been some notable bisexual characters on television (Callie on Grey's Anatomy comes to mind), oftentimes their stories are rushed, inauthentic or otherwise problematic.
We're excited to see what's next for Darryl and White Josh. Check out the video below!
https://www.youtube.com/watch?v=Fen-6lhrJs8