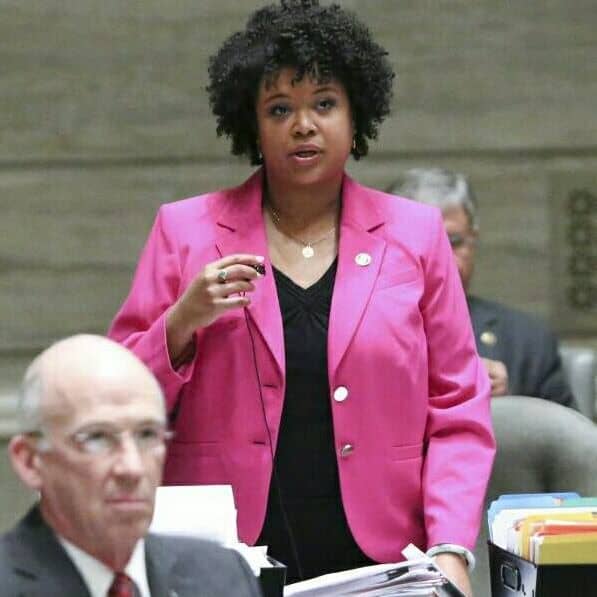 Democratic senators in the Missouri Senate have been filibustering an anti-gay 'religious freedom' bill for over 20 hours in an attempt to halt a vote on the proposed legislation.
If passed, the bill would amend the state's constitution to "protect" religious organizations and individual who oppose same-sex marriage because of their religious beliefs from being discriminated against. In other words, it would provide same-sex marriage opponents a 'license to discriminate' against LGBT Missourians so long as they use religion to justify their bigotry.
"I want to see us go for 24 hours," said Democratic Sen. Maria Chappelle-Nadal.
When this article was published, Chappelle-Nadal and her colleagues had persevered to the 20-hour mark to stymie a bill they said would "enshrine discrimination into the state constitution." […]
At issue is Senate Joint Resolution 39, which would create a constitutional amendment that prohibits the state from penalizing clergy, religious organizations, and individuals who act on their religious beliefs against marriage between two people of the same sex. It would need to pass both the legislature and at the ballot to become law. It is one of dozens of religious freedom bills filed in legislatures around the country.
[…] Republican supporters have characterized the legislation as a means to protect people from violating their Christian faith.
But critics say Onder's measure would create a legally dubious double-standard because it singles out one type of person — gay couples — for discrimination.
Chappelle-Nadal added at some point on Tuesday morning, "I can do this all day."
Sen. Scott Sifton, D-St. Louis, spoke personally about the subject, mentioning that both his father and one of his uncles are gay. At an early point in the debate, Sifton went line by line through the resolution with Onder and analyzed it word for word for hours trying to poke holes in the language and eventually offering a resolution that would broaden the language to take same-sex marriage language out of the bill, effectively neutering its intentions.
"Why limit those protections to just this one thing?" Sifton asked. "An equally availing critique may as well be why do we only want to protect religious liberty for same-sex marriage. Why limit it?"
Sifton and Sen. Jill Schupp, D-St. Louis, spoke at length about the effects of a similar bill, called the Religious Freedom Restoration Act, that was passed in Indiana in 2015. It allegedly cost the state $60 million, though Onder and other supporters of the legislation explained at length the differences between the resolution and Indiana's bill.
Schupp also made it a point to list individuals and businesses around the state that opposed the legislation. She also listed off churches and other religious congregations and clergy that opposed it.
"You can call this a religious freedom bill, but these religious organizations do not support it," she said.
The Human Rights Campaign applauded the filibuster on Tuesday:
"These Missouri Senate Democrats working throughout the night to stop this outrageous assault on LGBT Missourians and their families are our heroes," said JoDee Winterhof, HRC Senior Vice President for Policy and Political Affairs. "This resolution has nothing to do with religious liberty and everything to do with enshrining anti-LGBT discrimination into the Missouri Constitution. We are incredibly grateful for these state senators who are standing up against overwhelming odds to proclaim that hate and discrimination are not Missouri values."
Listen to audio from the floor of the Missouri Senate here. 
[Top photo via Facebook]