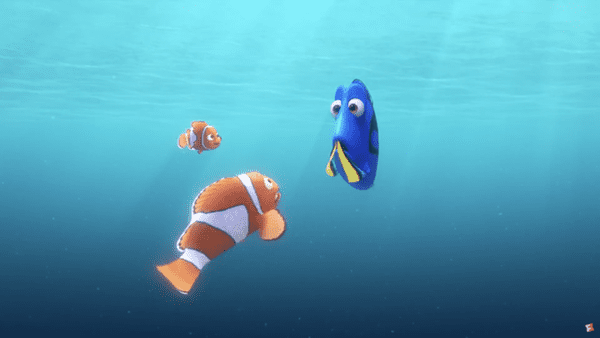 Ellen DeGeneres is back as your favorite forgetful fish in the first official trailer for Finding Dory, the sequel to the 2003 film Finding Nemo. In the new trailer, we see Dory have an epiphany about her past that inspires her to find her home.
The new animated film also features the vocals of Ty Burrell as a beluga whale named Bailey; Willem Dafoe as Gill, a moorish idol; Diane Keaton as Dory's mother, Jenny; Eugene Levy as Charlie, Dory's father; Vicki Lewis as Deb (and her sister, "Flo," Deb's reflection), a four-striped damselfish; Kaitlin Olson as Destiny, Dory's sister, a whale shark; and Ed O'Neill as Hank, an octopus. Idris Elba and Dominic West also star.
Disney-Pixar's sequel comes 13 years after Finding Nemo, which became an instant hit with its heartwarming characters and hilarious one-liners. The new version takes place six months after the original, and unlike the first will not spend the majority of its time in the ocean. Instead, the movie will mostly take place at the Marine Biology Institute of California.
Watch the trailer, below: