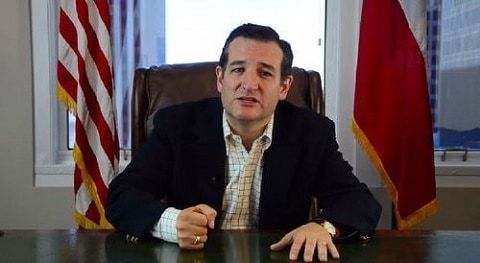 On Monday, Ted Cruz announced the formation of a "religious liberty" advisory council intended to help the Texas senator sound the dog whistle of "religious freedom" and advocate for discrimination against LGBT Americans.
Cruz is following in the footsteps of Republican rival Marco Rubio who last month created a "Marriage & Family Advisory Board." The expressed purpose of that board is to overturn the Supreme Court's gay marriage ruling. Honestly, it's surprising it took Cruz this long to follow up with his own anti-gay advisory council given his propensity for fomenting bigotry.
"Religious liberty is the first freedom guaranteed to Americans under the Constitution, and ensuring the protection of that right has been a priority my entire adult life," Cruz said. "Increasingly, renegade government officials seek to coerce people of faith either to act in a manner that violates their faith or forfeit their career. When I am elected president, that will change. It is time for our liberties to be respected in Washington. The right to religious liberty built America, and denying that right is both un-American and morally wrong." […]
Cruz's council is basically a cadre of anti-LGBT advocates. Among is Bishop Harry Jackson, senior of the Maryland-based Hope Christian Church and leading opponent of the same-sex marriage law in D.C. Another member is Tony Perkins, president of the anti-LGBT Family Research Council, who had earlier endorsed Cruz and said in a statement he's "honored" to join the candidate's "religious liberty" advisory council.
As The Blade notes, that there is some overlap between Cruz and Rubio's respective anti-equality advisory groups: "Ryan Anderson, a senior research fellow Heritage Foundation known for writing tracts in opposition to same-sex marriage in favor of anti-LGBT discrimination, is a member of both Rubio and Cruz's groups."
Also included on Cruz's list? Your favorite anti-gay bros, the Benham Brothers.
Check out the full list of Cruz's anti-gay cabal, below:
Chair – Tony Perkins President, Family Research Council
Ryan Anderson, Ph.D.
William E. Simon Senior Research Fellow, Heritage Foundation
Dr. Tony Beam Vice President for Student Services and Christian Worldview, North Greenville University
David Benham, entrepreneur
Jason Benham, entrepreneur Ambassador
Ken Blackwell Former US Ambassador to the UN for Human Rights
Teresa S. Collett Professor, University of St. Thomas
Jim Garlow, Ph.D. Pastor, Skyline Church, San Diego, CA Dr.
Mark Harris Pastor, First Baptist Church, Charlotte, NC
Pastor Jack Hibbs Calvary Chapel Chino Hills, CA
Bishop Harry Jackson Senior Pastor, Hope Christian Church, Bishop, International Communion of Evangelical Churches
Richard Lee, Ph.D. President, There's Hope America
Paige Patterson, Ph.D President, Southwestern Baptist Theological Seminary
Everett Piper, Ph.D. President, Oklahoma Wesleyan University
Jay Richards, Ph.D. Assistant Research Professor, School of Business & Economics, The Catholic University of America
Steve Riggle, Ph.D. Senior Pastor, Grace Community Church Reverend
Samuel Rodriguez, Ph.D. President, National Hispanic Christian Leadership Conference
Kelly Shackelford President and CEO, First Liberty Institute
Carol Swain, Ph.D. Professor of Political Science and Professor of Law, Vanderbilt University