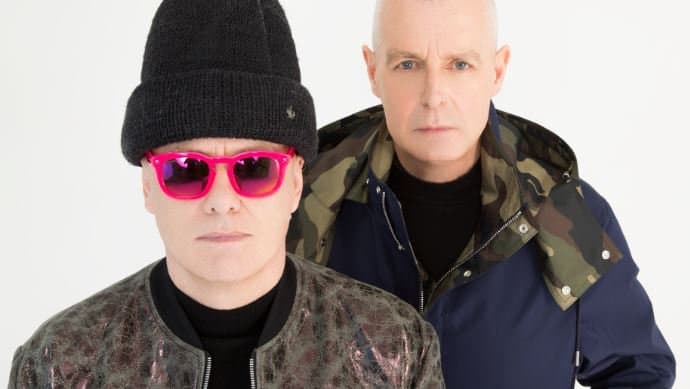 Tracks from the Pet Shop Boys upcoming studio album Super have been trickling out over the past few weeks, and today we are treated to the opening cut, "Happiness". The track had its premiere yesterday on Zane Lowe's Beats1 radio show.
Listen to the earlier tracks "Inner Sanctum" and "The Pop Kids".
Listen:
Neil Tennant and Chris Lowe published an interview online in which they talk about the new album, how it came about, and what's in store.
Said Tennant: "We have a little studio in Berlin that we use and we go there to write. We also have a studio in London but a lot of the time we worked in Berlin. We started going over there for two or three weeks at a time, and just writing, and over this period, which would be from November 2014 to July 2015, C we wrote about 25 songs. So 11 of them are on the album."
Tennant added that they wanted the album to be like their previous LP, Electric, but more electric:
"Stuart came over to our studio in London in July and we listened through to everything we'd written and made a decision to go with the more electronic/dancey • ones, including darker songs, like "Sad robot world". We had ones which were more conventionally "pop" that we decided not to put on, but maybe might be on the C next album. We wanted to make an album that had a very strong electronic mood all the way through it. It felt like Electric had been a sort of "rebooting" of the Pet Shop Boys, reminding ourselves that we came into this whole thing because we liked electronic music. Until this album and the previous album we've never been electronic purists – there have always been other instruments and orchestras and N things like that. Whereas this album and Electric are purely electronic albums."
The Pet Shop Boys are going to appear on The Graham Norton Show on March 25th, BBC One at 10.25pm, to perform "The Pop Kids".