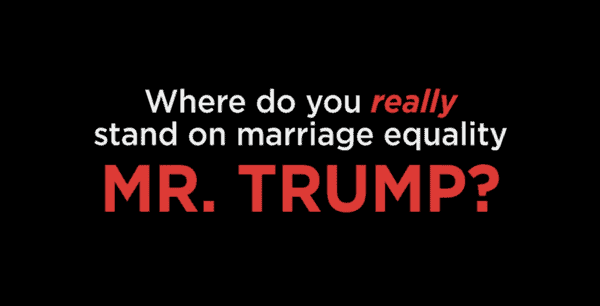 Back in December of last year, President of the Log Cabin Republicans Gregory T. Angelo told Hardball's Chris Matthews that Donald Trump is the most 'pro-gay' Republican candidate running for president this cycle. 
Angelo's remarks were prompted by a question from Matthews connecting Trump's support for a ban on all Muslims entering the U.S. with his position on gay rights. Matthews asked hypothetically, "Suppose [Trump] said no gays could come in [sic] the country?" Angelo replied that Trump "wouldn't say that."
Said Angelo, "Donald Trump – your viewers might not believe it – is actually the most pro-gay–He supports amending the Civil Rights Act to include sexual orientation non-discrimination. He's been to a gay wedding, he's friends with George Takei. His record doesn't bear out that that would be an enemy to the gay community."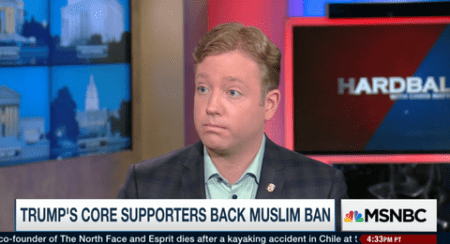 While Trump himself has not said that he wants to ban gays from entering the United States, an alarming poll before South Carolina's primary showed that one-third of Trump's supporters in the Palmetto State were in favor of barring gays and lesbians from entering the country.
Going even further in his defense of Trump, one week after his interview with Matthews, Angelo declared that, "Trump would do no harm on same-sex marriage." He also said that Trump has a "stand-out position" on non-discrimination legislation. Those remarks came in connection to an announcement that the group wanted an "audience" with Trump to discuss a potential endorsement.
Now the Log Cabin Republicans have changed their tune. In a new ad, the group goes after Trump, demanding that he explain his position on gay marriage. Once proud to defend Trump's record on gay marriage, the Log Cabin Republicans are now eager to point out all the hateful, troubling and contradictory remarks Trump has made on gay rights and gay marriage.
Watch the Log Cabin Republicans go after Trump, below.