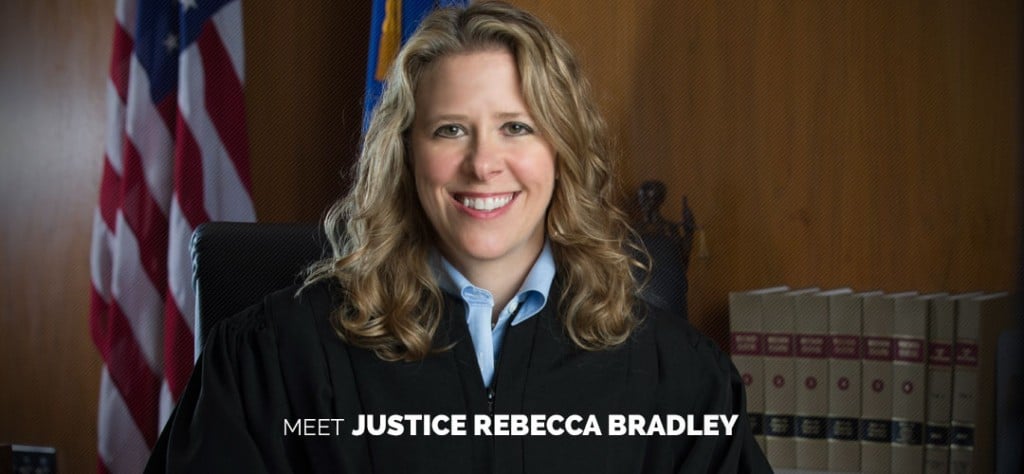 Wisconsin Supreme Court Justice Rebecca Bradley published several columns and letters to the editor while in college in which she deployed bombastic and hateful rhetoric to attack the LGBT community. Bradley's remarks were published in 1992 when she wrote for the Marquette Tribune at Marquette University, a Catholic college.
In her writings, Bradley describes homosexuals as "queers," compares them with drug addicts, saying they "essentially kill themselves and others through their own behavior." She describes newly elected president Bill Clinton as "queer-loving" and says his 1992 victory "proves that the majority of voters are either totally stupid or entirely evil."
She also describes homosexuality as "an abnormal sexual preference" and says those who support it are "dumb" and "degenerates who basically commit suicide through their behavior."
The comments referred to by The Tribune are fleshed out more fully in this list via The Milwaukee-Wisconsin Journal Sentinel:
"But the homosexuals and drug addicts who do essentially kill themselves and others through their own behavior deservedly receive none of my sympathy."
"This brings me to my next point — why is a student government on a Catholic campus attempting to bring legitimacy to an abnormal sexual preference?"
"Heterosexual sex is very healthy in a loving martial relationship. Homosexual sex, however, kills."
"I will certainly characterize whomever transferred their infected blood a homosexual or drug-addicted degenerate and a murderer."
Bradley also made offensive remarks about individuals suffering from AIDS, as The Sentinel points out:
In one piece, she wrote people were better off getting AIDS than cancer because it would get more funding.
"How sad that the lives of degenerate drug addicts and queers are valued more than the innocent victims of more prevalent ailments," wrote Bradley, who then had the last name of Grassl.
Bradley added, "Perhaps AIDS Awareness should seek to educate us with their misdirected compassion for the degenerates who basically commit suicide through their behavior."
Bradley attempted to walk back her hateful remarks in a statement issued Monday:
"I was writing as a very young student, upset about the outcome of that presidential election and I am frankly embarrassed at the content and tone of what I wrote those many years ago," Bradley said in a statement.
"To those offended by comments I made as a young college student, I apologize, and assure you that those comments are not reflective of my worldview," Bradley said. "These comments have nothing to do with who I am as a person or a jurist, and they have nothing to do with the issues facing the voters of this state."
Bradley was recently appointed to the Wisconsin Supreme Court by Republican Governor and failed presidential candidate Scott Walker. Walker told The Sentinel he was not aware of Bradley's anti-gay writings prior to his appointing her to three separate judicial positions. Nonetheless he said it was 'clear her views had changed.'
Bradley is currently up for re-election. She is facing off against Appeals Court Judge JoAnne Kloppenburg for a 10 year spot on the state's highest court.
One Wisconsin Now, an activist group responsible for unearthing Bradley's writings, has called on her to resign. Bradley's campaign manager Luke Martz called calls for Bradley's resignation "absurd."