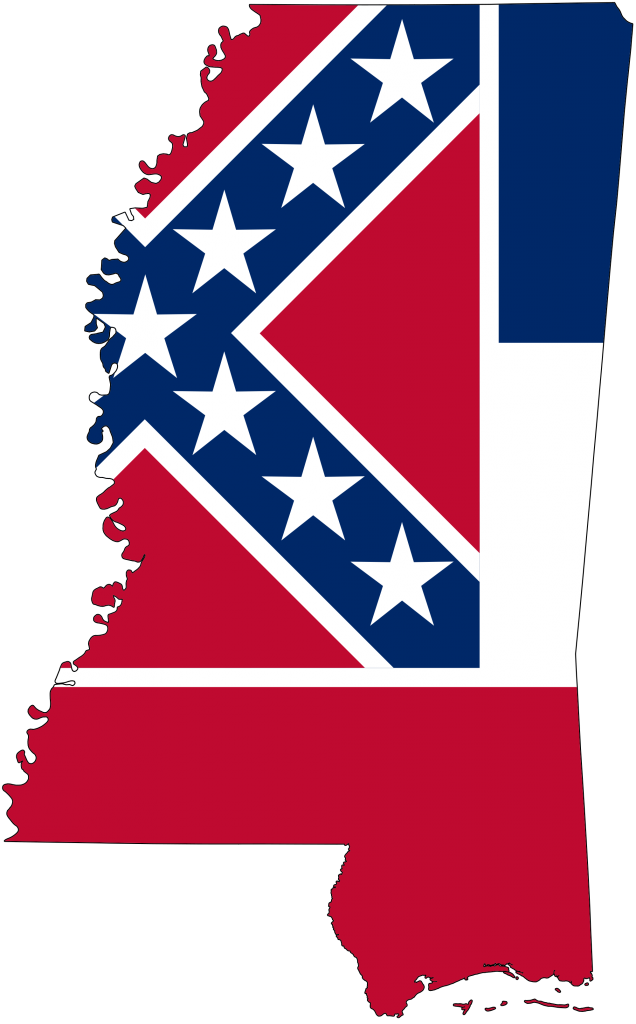 The Mississippi Senate has passed an anti-LGBT bill that has been described as "probably the worst religious freedom bill to date" to be considered in the United States.
That moniker was given to the bill by Ben Needham, director of southern LGBT advocacy group Project One America, as we mentioned earlier.
After only two hours of debate, lawmakers in Mississippi approved the "Protecting Freedom of Conscience from Government Discrimination Act" (also known as HB 1523) by a vote of 31-17
The Jackson Clarion-Ledger reports: 
House Bill 1523 would allow clerks to deny same-sex marriage licenses to gay couples because of their religious beliefs and not face any repercussions. It would also allow private businesses and faith-based organizations to refuse services based on those same beliefs without retribution.
Sen. Jenifer Branning, R-Philadelphia, presented the bill to the Senate. Debate on the bill lasted over two hours.
"This is presenting a solution to the crossroads we find ourselves in today as a result of Obergefell v. Hodges," Branning said, referring to the Supreme Court's decision legalizing same-sex marriages. "Ministers, florists, photographers, people along those lines – this bill would allow them to refuse to provide marriage-related business services without fear of government discrimination."
Part of the reason why the bill has been deemed so particularly heinous is, as BuzzFeed's Dominic Holden notes, because it combines the worst elements of religious freedom bills with those of first amendment defense acts.
More on HB 1523 from BuzzFeed:
[HB 1523] already passed the House 80-39 in February. However, the Senate's version was amended slightly, and the House must concur before it can go to the governor. […]
Specifically, House Bill 1523 would protect individuals, religious organizations, and certain businesses who take actions due to their religious objections to same-sex marriage. It would also protect those who object to transgender people. The bill says they could not face government retribution if they were acting based on "sincerely held" religious beliefs.
Further, it covers those who decline for reasons of faith to provide counseling services, foster care, and adoption services — even, apparently, those receiving government funding. Clerks who issue marriage licenses could also recuse themselves.
Democratic Sen. John Horhn argued the bill was inherently discriminatory.
"I have experienced discrimination, as many African Americans have — can't you see how this legislation might be seen as discriminatory?" he challenged Republicans.
HRC President Chad Griffin condemned the bill's passing:
"This legislation moves Mississippi backward, undermining equality for its residents and jeopardizing its ability to attract and retain fair-minded businesses. Governor Bryant should be paying close attention to the backlash against discrimination in Georgia, where Gov. Nathan Deal vetoed a terrible anti-LGBT bill, and in North Carolina, where fair-minded people and the broader business community are calling on state leaders to repudiate and repeal the discriminatory law passed last week."
Gov @PhilBryantMS, stop HB 1523. Mississippi's economy and reputation hang in the balance https://t.co/96gBgN0EiF

— Chad Griffin (@ChadHGriffin) March 30, 2016
It's now up to Republican Governor Phil Bryant to decide whether he will sign it. As of last week, Bryant said he did not believe the bill was discriminatory.
UPDATE.
Journalist Arielle Drehner reported on the debate in the Mississippi Senate on Twitter. Check out some of her reporting below.
HB1523 passes the Senate by a vote of 31-17; Sen. @John_Horhn holds it on a motion to reconsider #msleg

— Arielle Dreher (@arielle_amara) March 31, 2016
Sen. W. Simmons speaking against HB1523: "I'm concerned about the state that I love…it (HB1523) could impact our state economy." #msleg

— Arielle Dreher (@arielle_amara) March 31, 2016
"As a state we need to be against all discrimination." –@SenDavidBlount, says MS should have compromised like Utah #msleg

— Arielle Dreher (@arielle_amara) March 31, 2016
Sen. Branning closing on HB1523: "This bill in no way allows for discrimination by one person against another." Senators voting now. #msleg

— Arielle Dreher (@arielle_amara) March 31, 2016
"We don't need to put another stain on MS and demonstrate to the rest of the world how backwards we are in our thinking." -Sen. @John_Horhn

— Arielle Dreher (@arielle_amara) March 31, 2016
Sen. @John_Horhn cites Bible verses used to justify slavery, says "Religion isn't always right about things because people use religion."

— Arielle Dreher (@arielle_amara) March 31, 2016