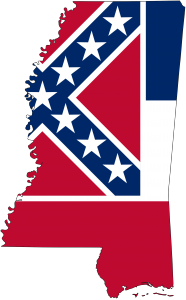 Mississippi lawmakers are set to vote today on a 'religious freedom' bill that has been called one of the worst pieces of anti-LGBT legislation in the country.
The bill passed in the state House in February, and opponents are hoping to kill it in the Senate by delaying a possible vote until after a Wednesday midnight deadline.
But Republican Lt. Gov. Tate Reeves, the most powerful person in the state Senate, supports the bill, his spokesman Laura Hipp told BuzzFeed News.
"It should be heard today," she said Wednesday around lunchtime. "There are pastors who have been concerned about same-sex marriage, and that is why this bill is moving forward in the senate."
The bill covers more than pastors, however.
House Bill 1523 would protect a wide swath of individuals, certain businesses, and religious organizations that take actions based on a "sincerely held" religious opposition to same-sex marriage — and those who believe sex should be restricted to married straight couples. It would also protect those who object to recognizing the gender identity of transgender people.
HB 1523 even anticipates likely challenges to anti-gay bakers and their ilk:
The bill further protects those providing photography, poetry, videography, disc-jockey services, wedding planning, printing, floral arrangements, dress making, cake or pastry, artistry, wedding-venue rentals, limousine, car-service rentals, jewelry sales and services, or similar marriage-related services.
Ben Needham, director of southern LGBT advocacy group Project One America, called the bill, "probably the worst religious freedom bill to date."
Erik Fleming, the director of advocacy and policy for the ACLU of Mississippi commented,
"It is very broad and very dangerous…It basically sanctions religious discrimination…It is reminiscent of what happened 50 or 60 years ago in this same state. People say that it is just religious, but there were people who had a religious belief that black and white people should be segregated, and you're opening that Pandora's box again."
If the Mississippi state senate approves the bill, it will be sent to Governor Phil Bryant (R) for his signature or veto.
You can watch a live stream (if you have windows media player) of the senate in session, here.
Six items away. Tell @tatereeves #NOHB1523 https://t.co/sNr7bgGHGt

— ACLU of Mississippi (@ACLU_MS) March 30, 2016