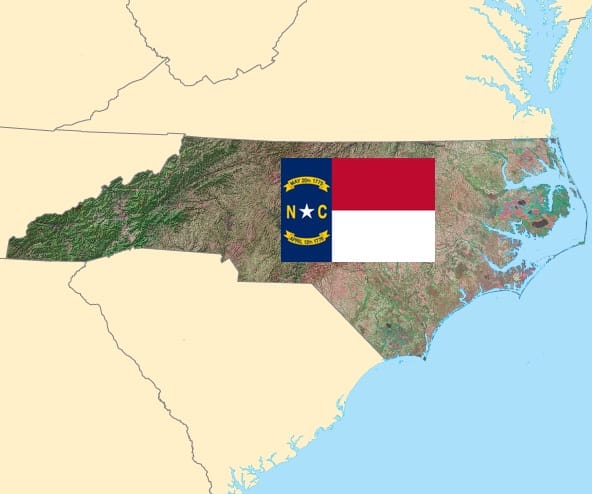 Last week, North Carolina passed a law, House Bill 2, that was explicitly designed to legitimize and codify sexual orientation and gender identity discrimination in the state. Earlier today, Lambda Legal and the ACLU filed a lawsuit challenging HB2's constitutionality on behalf of three residents of North Carolina directly affected by the law. There is every reason to believe that HB2 will be overturned by the federal courts, and it has nothing to do with the fact that President Obama's recent appointments have tilted the Fourth Circuit (in which North Carolina sits) back to the center. In fact, HB2 is so clearly unconstitutional it is hard to imagine how it could have been passed in the first place.
HB2 violates the Equal Protection Clause of the Fourteenth Amendment because it treats certain groups (transgender individuals, gays and lesbians) differently from others (everyone else) for no reason other than hatred and animus. The Complaint makes additional arguments: HB2 violates the right to privacy because it forces disclosure of intimate information; it violates our liberty interests in making intimate decisions for ourselves because it forces transgender individuals to undergo gender reassignment surgery in order to use the appropriate restroom; and it violates Title IX, which prohibits discrimination on the basis of sex in the provision of education, because it forces the University of North Carolina to discriminate against LGBT students and staff.
HB2 should fail under any of these theories. I would like to focus on the strongest argument — violation of equal protection — and one argument that isn't there — violation of Title VII's prohibition on sex discrimination in the workplace. I will also discuss the obvious enforcement problem and raise a few hypotheticals that prove just how absurd this law really is.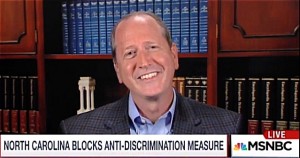 Background
The law is the North Carolina GOP's unbalanced response to a Charlotte ordinance that protected LGBT persons from discrimination in housing and public accommodations. To conservatives, the city law was not about preventing discrimination; rather, they billed it as a law that allowed men to use women's restrooms. Although conservatives have yet to offer evidence of a supposed avalanche of men pretending to be transgender women to use women's bathrooms, North Carolina Republicans convened an unprecedented one-day special session to pass a law entitled, "An Act to provide for single-sex multiple occupancy bathroom and changing facilities in schools and public agencies and to create statewide consistency in regulation of employment and public accommodations." Hearings on the matter were limited and Democrats walked out in protest. HB2 was the result: it overturned any local law that extended anti-discrimination protections beyond those already provided in state law and specifically singled out bathrooms as single-sex facilities based on "biological" sex.
Equal Protection
HB2 violates the Equal Protection Clause of the Fourteenth Amendment because it singles out a minority for unique, unprecedented, and unwarranted burdens. Gays, lesbians, bisexuals, and transgender individuals in North Carolina are not allowed to be protected by anti-discrimination law. Heterosexuals can be covered. By virtue of their sex/sexual orientation status, then, certain groups are singled out for disparate treatment. And the State has no good reason for doing so.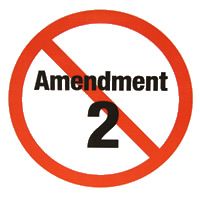 We've seen this story, in one form or another, play out before. Romer v. Evans (1996) concerned Colorado's Amendment 2, which amended the state's constitution to bar local, county, or state legislatures from passing anti-discrimination ordinances that included sexual orientation. In an opinion written by Justice Kennedy, the Supreme Court struck down Amendment 2, noting that the sheer breadth of the law, excluding gays and lesbians from the chance to use the political process to fight for equality, had absolutely no connection to any legitimate state interest. Without any justification for the law, the only reason Colorado could have passed Amendment 2 was because it simply didn't like gay people and wanted to hurt them. But, under the Fourteenth Amendment, you don't get to pass a law that harms another group just because you don't like who they are, what they look like, or how they have sex.
HB2 targets transgender persons on its face, meaning it explicitly singles out transgender individuals qua transgender individuals and discriminates against them. North Carolina Republicans knew this would be an issue, so they concocted the argument that the law was necessary to prevent men from preying on women in public bathrooms. But that's just nonsense: the quick debate may have included minimal hearings, but the run up to HB2's passage included no shortage of anti-trans statements from conservatives and Republicans in the State House. At the same time, no one offered even a scintilla of evidence of a bathroom assault problem from men pretending to be transgender women. This is anti-trans animus, pure and simple.
Title VII
Title VII is a federal law that prohibits workplace discrimination on the basis of sex. Several months ago, the Equal Employment Opportunity Commission, the federal arm that enforces Title VII, held sexual orientation discrimination is a form of sex discrimination and thus covered by Title VII. As such, HB2 also violates Title VII. One of the plaintiffs in the lawsuit is an employee of a public university. The plaintiff is also transgender. According to the EEOC, a transgender state employee who is denied access to a restroom based on gender identity would have a claim under Title VII.
Notably, this claim is not included in the complaint. One possible reason is process: under Title VII, you cannot file a lawsuit until you have exhausted all "administrative remedies." That means that the aggrieved employee has to go through his or her employer's internal processes first, and that can take time. It could even take more time than the entire shelf life of the HB2 lawsuit, depending on how fast the case moves through the federal court system.
Enforcement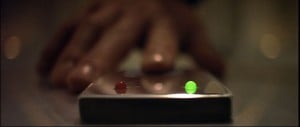 It is clear that HB2 is unconstitutional. It's also a pretty absurd law. Assuming the law actually does go into effect (Lambda and the ACLU may seek an injunction to keep the status quo in place pending the disposition of the lawsuit), how does North Carolina plan on enforcing it? Covered accommodations will have to hire Genitalia Inspectors to stand in front of every bathroom and cross check what they find with a person's birth certificate. And who carries their birth certificates around? It sounds like the only way this law actually gets enforced is by placing a yet-to-be-invented Gattaca-style device that scans for "biological sex" before a bathroom's force field is lowered.
"Biological sex" is another problematic phrase. The law appears to define "biological sex" as the sex listed on one's birth certificate. But several states and municipalities allow individuals to change the sex on their birth certificates to conform to their gender identities even without gender reassignment surgery. This means that a transgender woman who presents as female in dress, appearance, and grooming but still has a penis could use a female-only North Carolina restroom if she comes from a state that allowed her to change her sex on her birth certificate. I'm not sure North Carolina's Republican legislators had that in mind.
Regardless of these enforcement and interpretation problems, the law cannot pass constitutional muster. But we now have to wait for the legal process to unfold. We appear to once again be at a point where a reactionary political process is mobilized to attack, forcing us to play defense politically and rely on our litigation teams to vindicate our rights. Several LGBTQ leaders have been warning about this for some time: religious exceptions, "bathroom" laws, and right to discriminate bills have emerged in the aftermath of the Supreme Court's decision in Obergefell v. Hodges and there appears to be no political strategy to stop them. At least our lawyers are fighting back.