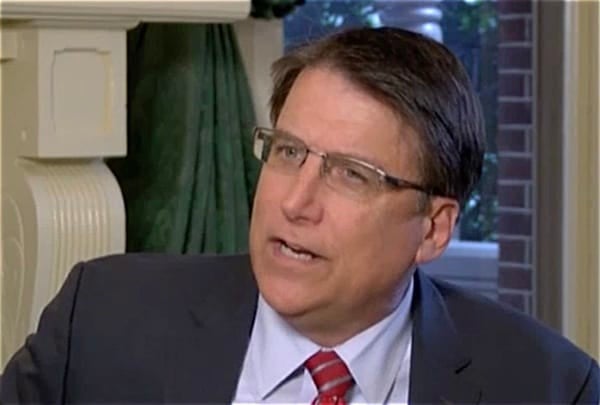 Last night I reported that The American Civil Liberties Union, ACLU of North Carolina, Lambda Legal, and Equality NC are planning to announce a federal lawsuit on Monday challenging North Carolina's HB 2, the legislation passed by Republicans last week in a rushed special session. The lawsuit was filed overnight in the U.S. District Court for the Middle District of North Carolina by ACLU of North Carolina and Equality North Carolina on behalf of Joaquín Carcaño, a transgender man and staffer at the University of North Carolina-Chapel Hill; Payton Grey McGarry, a transgender man and student at the University of North Carolina-Greensboro; and Angela Gilmore, a lesbian and associate dean for academic affairs at North Carolina Central University.
Gov. Pat McCrory, Attorney General Roy Cooper, and the University of North Carolina and several of its senior officials are named as defendants.
The draconian bill not only overturned Charlotte's LGBT ordinance, but banned all LGBT nondiscrimination ordinances statewide and also prohibited local municipalities from setting the minimum wage higher than the state.
Buzzfeed's Dominic Holden reports:
The lawsuit argues that the new law denies LGBT people equal protection rights under the Fourteenth Amendment because the new law was designed to single LGBT people out for discrimination and less protection….
….The lawsuit argues that the new law violates the rights of transgender people under the Constitution and existing civil rights laws because it denies those students access to school facilities that reflect their gender identity….
…It also asserts that the law violates Title IX as to Carcaño and McGarry. For example, the lawsuit alleges that the law denies McGarry "the benefits of, and subjects him to discrimination in educational programs and activities at Defendant's constituent campus, UNC-Greensboro, 'on the basis of sex'" — a violation of Title IX.
Under President Obama, federal agencies have interpreted Title IX — which bans discrimination in publicly funded schools on the basis of sex — to ban transgender discrimination as a form of sex discrimination.
Finally:
The lawsuit also alleges two additional constitutional violations regarding the "biological sex" bathroom restrictions of the law: first, a violation of the plaintiffs' right to privacy, and, second, a violation of the plaintiffs' right to "liberty and autonomy in the right to refuse unwanted medical treatment."
Holden's full assessment is here.
Read the complaint: