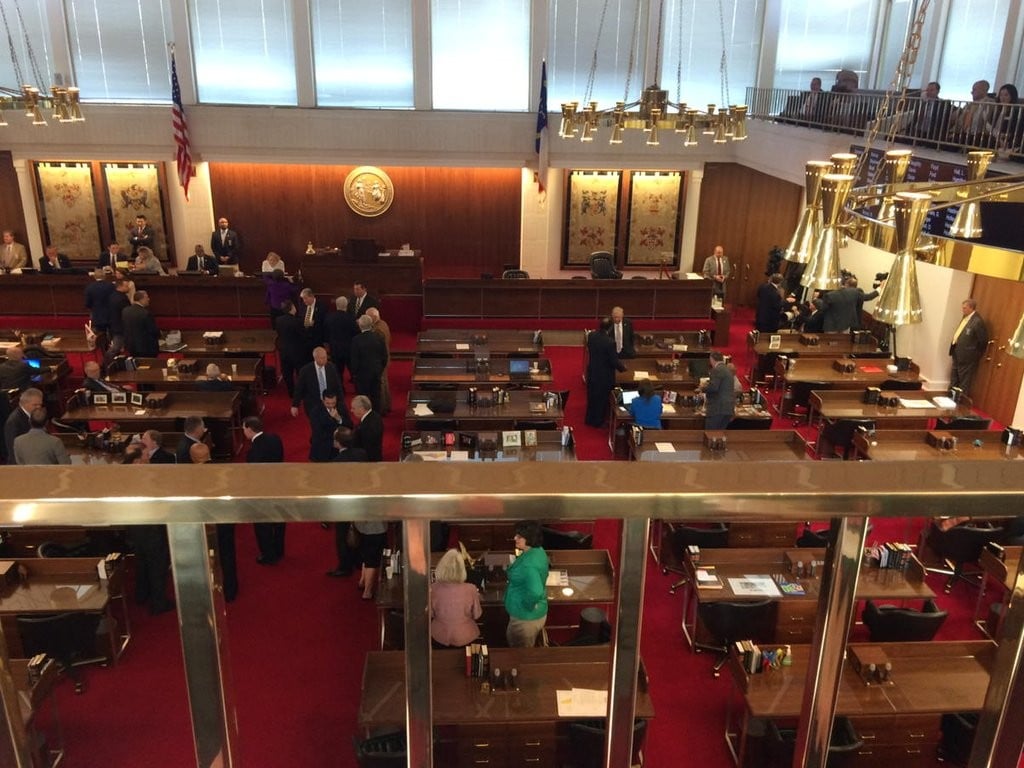 North Carolina lawmakers have hastily taken up a bill intended to block an LGBT civil rights ordinance from taking effect in the city of Charlotte.
The bill would prevent all cities in North Carolina from being able to enact any local nondiscrimination ordinances.
The bill was advanced out of committee on Wednesday within an hour of being introduced. Democratic lawmakers were reportedly not given an opportunity to look at the bill prior to the committee vote.
.@jdanbishop complains about hastily written legislation. You mean like giving 5 minutes to review legislation? Agreed! #ncga #ncpol

— Equality NC (@equalitync) March 23, 2016
House Bill 2 mandates that state law supersedes all local ordinances concerning wages, employment, and public accommodations — thereby negating and blocking local policies designed to protect people from discrimination. It would also mandate that single-sex public restrooms and locker rooms in publicly run facilities be restricted to people of the same corresponding birth sex.
Further, it would would ban transgender students from school restrooms that correspond with their gender identity — teeing up a potential legal clash with the federal government, which says civil rights laws ban transgender discrimination in schools.
Republicans control both chambers of the state legislature and they have been intent on preempting laws in Democratically controlled Charlotte and nine other jurisdictions with LGBT protections. […]
In testimony before the committee, Christian conservatives said they were furious that Charlotte's nondiscrimination ordinance would allow transgender women to use women's restrooms, which they contend allows "men" to sexually prey on girls. They said the ordinance compromised the safety and privacy of women, and would open the gate for similar laws.
The bill is now before the state's General Assembly.
Here's a quick look at the bill. You can see the full version at https://t.co/ugrqAT48ef https://t.co/oeiU7qRE9W pic.twitter.com/mcQqmXj0cp

— jim bradley (@jimbradleyWSOC9) March 23, 2016
The state's attorney general, Roy Cooper, posted a video on Wednesday blasting the bill as "wrong, period."
Dow Chemical, which has a substantial presence in North Carolina, also came out against the bill on Wednesday.
Dow opposes #NCGA attempt to undermine equality in Charlotte. Let's focus on policies that make #NC stronger and more competitive. – KK

— Dow Public Policy (@DowPolicy) March 23, 2016
The move was applauded by Equality North Carolina.
We're glad to see big business like Business Equality Council member @DowChemical take a stand against discrimination. #NCGA

— Equality NC (@equalitync) March 23, 2016
As Andy reported on Monday, the vote on the bill to override Charlotte's LGBT ordinance was invoked by Lt. Gov. Dan Forest, who oversees the Senate, and House Speaker Tim Moore after Governor Pat McCrory declined to do so. McCrory opposes Charlotte's LGBT protections but said he also opposed the special session because it is costing taxpayers $42,000 a day.
Watch an excellent news report from WSOC TV, below.
You can listen to the General Assembly debate the bill here.
[Top photo via Twitter]