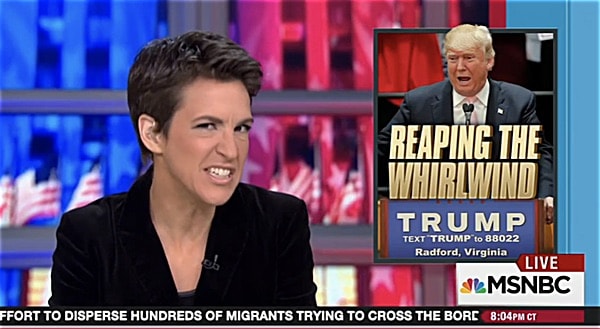 Rachel Maddow began a segment on Donald Trump's ascension last night by looking back at the 2012 Republican debate sponsored by Newsman which never happened because all of the GOP candidates objected to the moderator.
That moderator was Donald Trump.
And ironically, what happened in that campaign with Mitt Romney was what led to that moderator, Trump, probably becoming the party's nominee in 2016.
Mitt Romney's failure to wrap things up, by having to "slog on" in the primary process in 2012, led to a rebuilding of that process, a shortening, and a reallocation of delegates in early states which lets the GOP frontrunner lock up the nomination earlier.
The mix of states on 2016's Super Tuesday (today) is substantially different than those in 2012.
Says Maddow: "Choosing to have your nominee selected by all white, deeply conservative hardcore Republican voters across the American South…has consequences for who gets picked."
And this year it appears to be leading to Donald Trump, who is also garnering endorsements from racists like David Duke, Maine Governor Paul LePage, and Alabama Governor Jeff Sessions, whose record was too racist for him to be confirmed as a federal judge back in 1986.
Watch: