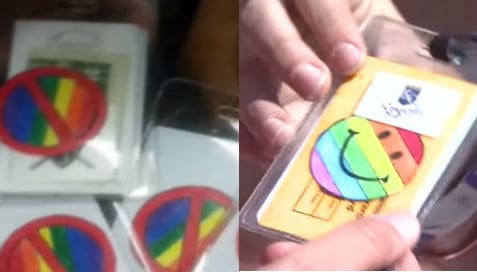 Administrators at a high school in Indio, California have said they are unable to do anything about a number of students wearing antigay hate stickers on their school ID badges.
The same students also placed one of the symbols on the window of Gay Straight Alliance coordinator Amy Oberman's classroom. Another student has since printed out pro-gay symbols.
According to Shadow Hills High School officials, their failure to address the symbols – a rainbow pattern crossed out with a circle and a line – in the interest of protecting freedom of speech rights.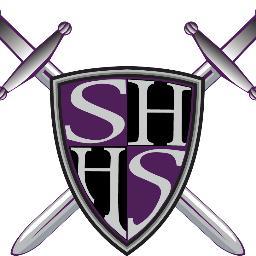 In a statement released last week to the Desert Sun, the school said:
"After consulting with district level personnel and our legal counsel, it was determined that these students do have the protected right to freedom of speech, just as students portraying rainbows in support of the LGBT would."
The statement added:
"If at any point students are interrupting class time to express their beliefs, they are to be sent to the discipline office with a referral for disruption…We all have a right to freedom of speech, but students also have a right to be educated without fear. This has always been our policy and we will continue to enforce it."
Oberman said that although there is freedom of speech "it's a hate crime because a group was targeted. I'm Jewish," she added, "and if that had been a little swastika on my window, what's the difference?"
Michelle Bachman – no, not that one – a senior and vice president of the Gay Straight Alliance, said she feels the symbols "rise to the level of bullying and intimidation."
"This group of students was publicly displaying an intolerance and hate for the LGBT community when a large portion of our students at SHHS are part of the community or close to people a part of it as well. This is definitely hate speech, but legally, we can't do anything until these students start to physically harass us, which I believe is an injustice."
According to Melissa Goodman, director of the LGBTQ Gender and Reproductive Justice Project at the ACLU of Southern California, "speech and expressive conduct like wearing pins is protected by the First Amendment and other California laws that strongly protect student speech rights."
She continued:
"Speech can cross the line into prohibited harassment. Factors courts look at to determine whether speech crosses the line into unprotected harassment include, among other things, its severity, persistence, and whether it's directed at a particular student or group of students, especially if it is a group specifically protected from discrimination."
Last month, we reported that a Catholic high school in South Florida was vandalized and spray-painted with gay slurs and anti-gay images.
Watch a KESQ report below.