FLINT. Democratic Congressman Matt Cartwright (PA) blasted Michigan Governor Rick Snyder at hearing on the Flint water crisis: "Gov. Snyder, plausible deniability only works when it's plausible. And I'm not buying that you didn't know about any of this until October 2015. You were not in a medically induced coma for a year. And I've had about enough of your false contrition and your phony apologies."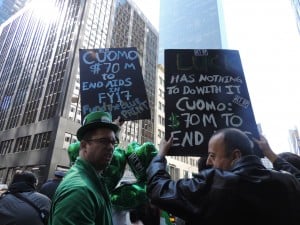 NYC. ACT UP protests New York Governor Andrew Cuomo at St. Patrick's Day Parade. Group demands that Cuomo fully fund NY State's Blueprint to End the AIDS Epidemic with $70 million. Currently, he's earmarked $10 million in the state budget for the plan. More photos of the protest here.
NATURE. Blackfish director responds to news that SeaWorld will stop breeding Orcas in captivity: "This is paradigm shifting."
HATE. Westboro Baptist Church to boycott Derrick Gordon, the first openly gay college basketball player to compete in the NCAA: "Seton Hall's Derrick Gordon went public about his sexual orientation roughly 2 years ago … but this is the first year he'll be playing in the biggest tournament in college basketball as an openly gay man. Most people are hailing it as a triumph … but the Westboro Baptist Church says it's an abomination. 'Satan-inspired media loves to stoke his rebellion, but we'll protest @marchmadness for Derrick Gordon,' the church tweeted."
UNIFORM. Happy St. Patrick's Day, from Prince William to you.
The Duke of Cambridge, Colonel, joins the Irish Guards #StPatricksDay parade at their new base at Cavalry Barracks. pic.twitter.com/Z7cffyTUBk

— The Duke and Duchess of Cambridge (@KensingtonRoyal) March 17, 2016
UNDERWEAR. And from The Underwear Expert.
TRUMP. Harry Reid holds Republicans accountable for the rise of Donald Trump: "The Republican establishment acts bewildered. But they should not be bewildered. As much as they may try to distance themselves from Trump now, Republican leaders are responsible for his rise. Republican leaders created the drought conditions; Donald Trump has simply struck the match."
ARCHAEOLOGY. Hidden rooms in King Tut's tomb discovered using radar. Experts suspect they could hold the remains of Queen Nefertiti: "At a packed Cairo news conference Thursday to announce the find in King Tut's tomb in Luxor, Antiquities Minister Mamdouh el-Damaty declined to comment on whether any royal treasure or more mummies might be inside the rooms. But he said the unexplored chambers could hold some kind of organic or metal objects."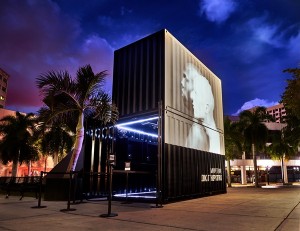 ART. Free pop-up installation of Robert Maplethorpe's work hits New York this weekend (at the Flatiron Plaza North–23rd St and Broadway) ahead of premiere of new HBO documentary on, Look at the Pictures. Exhibit runs Friday, March 18 (6pm-11pm) and Saturday, March 19 (6pm-10pm).
SPORTS. Chicago White Sox first baseman turns down $13 million payday over not being allowed to bring his son to work.
TELEVISION. Inside Amy Schumer is coming back and is as self-aware as you might hope. 
DEMOCRATIC PRIMARY. NYT reports that President Obama privately made a call for the Democratic party to unite around Hillary Clinton: "In unusually candid remarks, President Obama privately told a group of Democratic donors last Friday that Senator Bernie Sanders is nearing the point where his campaign against Hillary Clinton will come to an end, and that the party must soon come together to back her. Mr. Obama acknowledged that Mrs. Clinton is perceived to have weaknesses as a candidate, and that some Democrats did not view her as authentic. But he played down the importance of authenticity."
POST-HUMP DAY HOTNESS. Starring Brazil's Bruno Elder…and his hot friends.