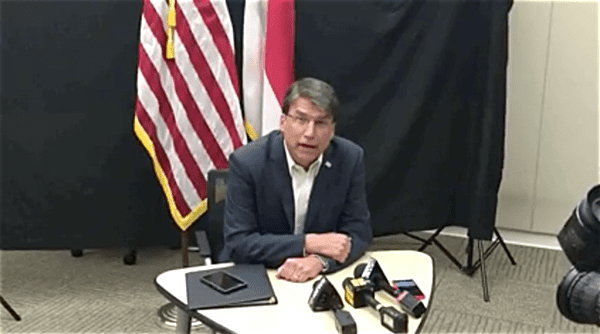 North Carolina Governor Pat McCrory says he will respect and bide by the 4th Circuit Court of Appeals' ruling on a case involving a transgender student from Virginia, a ruling that could invalidate his state's new anti-LGBT bill.
Earlier on Tuesday, the 4th Circuit found that requiring students to use bathrooms in accordance with their "biological gender" or gender neutral bathrooms violates Title IX of the Education Act of 1972, which prohibits discrimination based on sex.
That ruling could have dramatic implications for North Carolina and it's anti-LGBT bill, HB 2, because North Carolina is under the purview of the 4th Circuit. HB 2 bans transgender individuals from using bathrooms in accordance with their gender identity.
Responding to news of the court's ruling, McCrory said he will meet with attorneys and uphold his oath of office and "abide" by the 4th Circuit's decision.
#BREAKING .@PatMcCroryNC says he will meet with attorneys to figure out impact of VA ruling on #HB2. #ncpol @WNCN

— Beau Minnick (@BeauMinnick) April 19, 2016
#ncgov McCrory says he will respect 4th circuit ruling on Va transgender case, unsure of state's specific response re: #hb2.#wral #ncga

— mark binker (@binker) April 19, 2016
"As governor, I will uphold my oath of office to respect these court rulings, and make sure these court rulings are abided to because I'm sworn to oath to do just that, and I have a tradition of doing just that," McCrory told reporters on Tuesday.
"It is my understanding that this ruling will most likely be immediately appealed to the U.S. Supreme Court," he continued, adding that he will get an evaluation from his lawyers in the meantime on how the ruling affects North Carolina law. "I mean, this is a major, major change in social norms."
The 4th U.S. Circuit Court of Appeals ruled on Tuesday that the Virginia school's policy is discriminatory, reversing a lower court ruling that had denied the student a preliminary injunction. The three-judge panel sent the case back to the lower court to be reheard.
The 4th Circuit includes North Carolina, so the Tuesday ruling could help determine the outcome of a lawsuit challenging a new law in that state that directs people to use the public bathroom that corresponds with their birth sex.
DNC Chair Rep. Debbie Wasserman Schultz issued the following statement on the 4th Circuit ruling:
"This court victory affirms that there is no commonsense reason to bar transgender students from using the restroom that aligns with their gender identity and that doing so is discriminatory and harmful. This ruling sets precedent in five states, including North Carolina, where Republican legislators and the Republican governor have embraced the exact type of discrimination that the court today has overruled. Republican legislators who continue to push anti-LGBT measures and the Republican presidential candidates who fan the flames of discrimination with ignorant rhetoric have been exposed by this ruling for what they're truly peddling. Just this week, one of the Republican presidential candidates told victims of discrimination to 'get over it.' Well, it's time for the Republican Party to get over their anti-LGBT bias and join the rest of the country in embracing the full equality of every American."
Watch video of McCrory responding to reporters' questions about the 4th Circuit ruling, below.
https://www.facebook.com/nccapitol/videos/752052601598613/