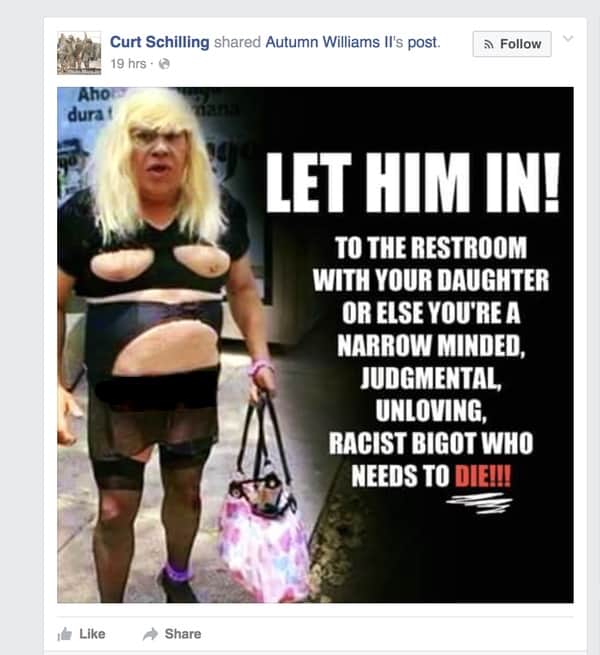 ESPN commentator and former MLB player Curt Schilling shared a disgusting, transphobic graphic to Facebook, enhancing it with his own commentary, before deleting it earlier today.
Says the image: "LET HIM IN! To the restroom with your daughter or else you're a narrow minded, judgmental, unloving, racist bigot who needs to DIE!!!"
Outsports' Cyd Zeigler has had it: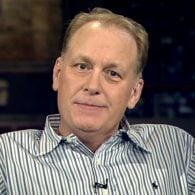 Maybe making the matter even worse, one of ESPN's MLB editors is a trans woman: Christina Kahrl. How does the company tell Kahrl anything but, "We reject this message and this man"?
Schilling has become known for acting like a total jerk on social media, trolling Muslims on a regular basis.
ESPN has been very out-front on LGBT issues and incredibly supportive over the years. While there can certainly be some respectful disagreement on issues, Schilling leaves no room for that here. I cannot imagine a firing (or at least a very lengthy suspension) by ESPN isn't in Schilling's very near future.
Writes the NY Daily News: "As hard as he tries, Curt Schilling can't seem to avoid being a bigot."
Even worse, Schilling doubled down on the post in a comment: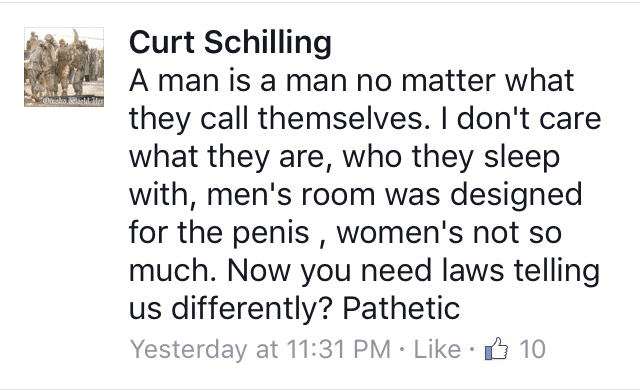 UPDATE:  Schilling has posted a response to the attention he has received. Head to the link for the full screed.
For all of you people dying to be offended by something that never actually happened. https://t.co/6V4Ql8gd0e

— Curt Schilling (@gehrig38) April 19, 2016