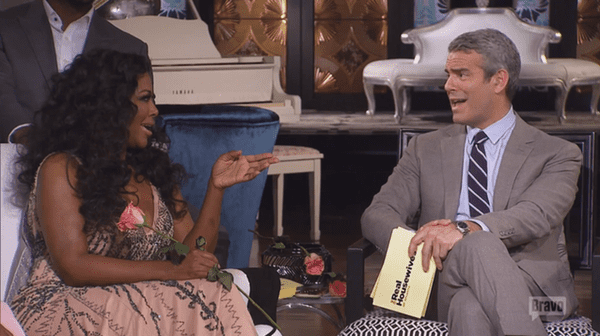 On the season 8 reunion of The Real Housewives of Atlanta, moderator and Bravo! imperator Andy Cohen blasted housewife Kenya Moore for failing to honestly apologize for spreading gay rumors about one of her cast-mate's husbands.
Those rumors centered on Kim Fields' husband, Christopher Morgan. Morgan's sexuality was reportedly already subject for speculation before Moore started a bout of tongue-wagging among the ladies of Atlanta.
Kenya swears that she has no responsibility for the rumors — she was just quoting what she claims she "heard," either from online blogs or from people on Living Single (it wasn't totally clear in the hectic reunion scrum). Even though Andy usually loves provoking controversy among the 'wives, he was looking noticeably uncomfortable about the way they began once again joking over the topic, bringing up the justifications for why they laughed at the idea of Chris being gay. And, he quickly shut it down, prompting a round of genuine apologies — from all but Kenya.
Cohen took all of the housewives to task for their respective roles in furthering the gay rumors, saying, "It seems like you are all kind of gay bashing and do this thing where you accuse him of being this way, making a big joke of it. It was taunting and derogatory, everybody. It was just not a pretty look."
After all of the wives but Moore apologized, Cohen pressed her on why she had not done so. She responded by saying that she was sorry if Morgan "was offended" by what she said. Cohen called Moore's apology both "crappy" and "sh*tty."
Morgan responded to the situation by, saying, "Somebody's sexuality has nothing to do with their character."
Watch a clip of the exchange from the reunion, below.