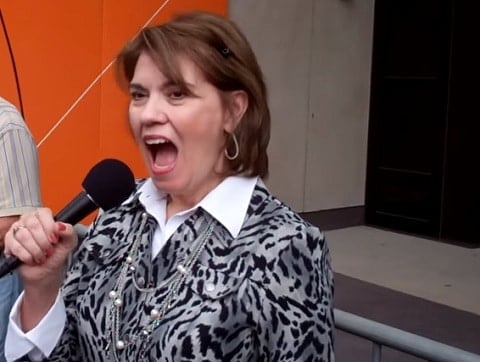 Demon-obsessed battleaxe Linda Harvey has attacked "spiteful lesbian lawyers" for bringing about the ruination of pro-sports.
Writing on rag World Net Daily, the article "Will GOP Run or Stand Against Pink Goliath?", Harvey also attacks Georgia Governor Nathan Deal because he has "sided with rainbow radicals and apparently believes pastors should be forced to perform homosexual so-called 'weddings.'
Perfectly reasonable Harvey, who has said that a ban on conversion therapy will increase cases of HIV among young people, asks:
"What happened to real men in pro sports? Or are their spiteful lesbian lawyers calling the shots? Time for some boycotts, sports fans. The battle in Atlanta came from homosexual allies in the business community, with Coca-Cola, Delta and others siding with sodomy and against Christians.
"Brave GOP legislators in Georgia passed the measure ensuring that Christian organizations are not forced to hire or retain employees in conflict with their religious faith, and that no pastor can be forced to perform or attend homosexual ceremonies.
"Disney, Marvel and Viacom said they wouldn't make films in Georgia if the bill became law. The NFL was hinting that Atlanta wouldn't be considered to host a future Super Bowl if the bill became law. Where are the real men? Come on, players; you don't all agree with this position by the league! Someone speak out and say so. We can pray that the Georgia Legislature does the right thing and enacts an override of Deal's veto."
Harvey also manages to squeeze in the following particularly vicious attack on trans youth:
"Pretend girls claim they need access to female restrooms to avoid being victims of harassment, but this is false. The obvious solution to feeling unsafe in a bathroom where you don't belong is to remove the disguise and safely live as the sex revealed at your birth."
She concludes by asking her rabid Republican supporters to "work diligently to get the cross-dressers – that is, those who run as conservatives but govern like liberals – out of office, to be replaced with brave warriors ready to face the pink Goliath."
Listen to Harvey explain how the "hard left" is recruiting children into "sexual aberration" below.
https://www.youtube.com/watch?v=UPgwaouyvBc