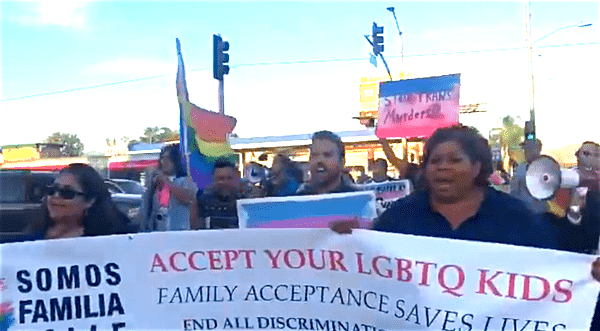 A group of LGBT rights activists held a rally for peace and tolerance in the L.A. neighborhood where a local man, Amir Issa, was murdered for being gay.
About two dozen members of Somos Familia Valle, an LGBTQ community group based out of the San Fernando Valley, gathered in North Hills Monday to promote peace and tolerance following the alleged murder of a gay man by his own father.
The support rally was held at the corner of Nordhoff Street and Sepulveda Boulevard less than a mile from the murder scene.
Prosecutors say Shehada Khalil Issa, 69, shot and killed his son, Amir, outside their North Hills home last week for being gay.
rally organizer Ronnie Veliz said.
"When one of these family tragedies happen, this sends a strong message that there's a lot more work that we need to do, anti-violence work, work to educate our communities to rise above homophobia and transphobia and most importantly, to really address mental health issues,"
Shehada Issa also reportedly killed his wife in addition to his son.
Following the news of Amir's tragic death, a Facebook post he shared just 10 days prior to his murder surfaced revealing a disturbing dynamic between Amir and his family.
Shehada will be arraigned on April 11. He is being charged with premeditated murder as a hate crime.
Watch a news report on the rally from ABC 7, below.
And check out some photos and videos from the rally via Instagram, below.