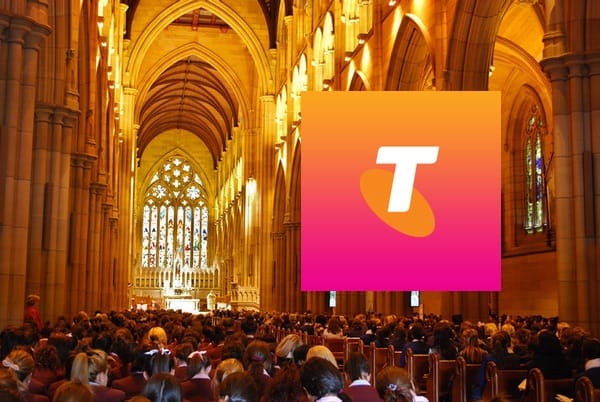 Telstra, Australia's largest telecommunications and media company, has withdrawn its public support for marriage equality after boycott threats from the Catholic Church, the Sydney Star Observer reports:
Telstra has been a vocal supporter of marriage equality over the past few years, most recently featuring in a full-page Australian Marriage Equality advertisement in May, 2015.
In response to the advertisement, the Archdiocese of Sydney's business manager Michael Digges wrote an email to all the companies participating in the campaign and threatened to boycott their services. Telstra, which has the contract for Catholic schools across Australia, decided to back away from its public support as it "did not want to risk its commercial relationship with the church", the Australian's Rick Morton reported.
"The government has committed to putting same-sex marriage before the Australian people in the plebiscite, and ultimately, it will be parliament who determines any changes in the institution of marriage," a Telstra spokesman told the Australian. "In view of this, Telstra has no further plans to figure prominently in the wider public debate. Telstra has demonstrated it places great importance on diversity and standing against discrimination, in all its forms. Our workforce reflects this diversity, including people … in a broad range of relationships."
The Aus people and Parliament will determine any changes to institution of marriage. We have no plans to drive further public debate.

— Telstra News (@Telstra_news) April 12, 2016
Australian gay site Same Same writes:
Last year Telstra was one of hundreds of businesses which signed a letter of support for marriage equality, with its logo shown among many other iconic Aussie brands in ads for the Australian Marriage Equality campaign. The Catholic Church wrote to every business listed in the marriage equality campaign's supporter's list, implying that Australian Catholics might boycott their products or services.

They have also published the full letter from the Archdiocese of Sydney.
(Image of St. Mary's Cathedral, Sydney – adapted – original image flickr user avlxyz – wikimedia commons)