As we've been reporting, so-called 'bathroom bills' that police access to public bathrooms have been rapidly propagated by right wing politicians since the Supreme Court legalized gay marriage last summer.
Most recently, North Carolina became the first state in the nation to broadly restrict transgender people's access to public restrooms. Yet proponents of North Carolina's discriminatory bill, HB 2, as well as advocates of other similar bills have no actual evidence to support the oft-repeated yet too-seldom-questioned myth that transgender Americans pose a threat to women and children in public restrooms.
Carlos Maza at Media Matters For America (MMFA) writes, 
That "bathroom predator" talking point is a myth. Law enforcement experts and people who work with victims of sexual assault have called it "beyond specious" and "the most ridiculous thing I've ever heard." There have been zero proven incidents in the more than 17 states and 200 cities where transgender people are currently protected from discrimination and allowed to use public bathrooms that correspond with their gender identity.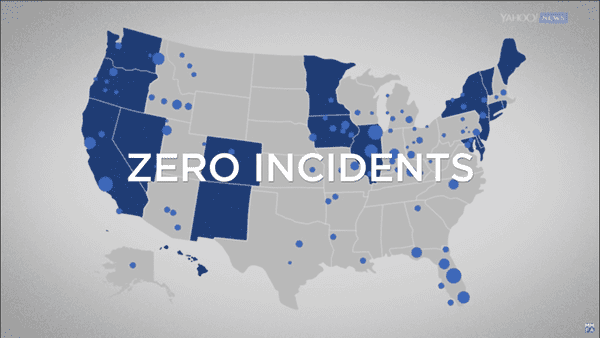 Despite the fact that no verifiable evidence exists to back up right-wing fear-mongering about 'transgender bathroom predators', mainstream media has relentlessly reiterated the talking points of the anti-LGBT right without clarification or qualification.
Chase Strangio, an attorney for the ACLU, told MMFA,
Journalists who talk about this as two co-equal sides are essentially letting proponents of these talking points get away with mythic narratives about trans predators or non-trans predators having access to bathrooms and locker rooms. And that story is incredibly damaging and really undermines efforts to protect trans people and the whole LGBT community.
[…]
When the media doesn't point out that the bathroom talking points are complete bullshit, what they're doing is participating in a falsehood that allows trans people to be associated with intrusions into privacy, with violence, and with harm to other people. The reality is none of these things are true.
Maza adds of anti-LGBT bills across the country, "Republican politicians are using imaginary horror stories about bathroom predators to pass creepy, invasive laws policing the gender of anyone who goes to the bathroom in a public place. That's the story media outlets should be telling when covering 'bathroom bills' like North Carolina's."
Watch Maza break down and dispel the anti-LGBT bathroom myth, below.