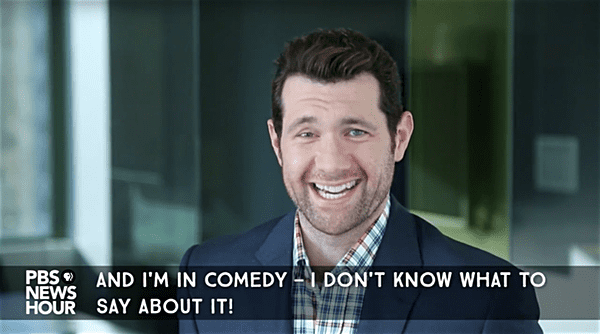 In a new video from PBS's web series "Brief But Spectacular", Billy Eichner talks about his alter ego (Billy on the Street) and how being gay affects (or doesn't affect) his comedy.
Fans of Billy on the Street may be shocked to hear Eichner speak within a normal decibel range in this video, which is your first clue that the guy you see ambushing unsuspecting pedestrians on the streets of NY is a created persona. Says Eichner of his performative alter ego, "It's pretty much my id as a twelve-year-old kid blown up."
Eichner also got candid about growing up gay and how sexuality impacts his work. Says Eichner,
"I am gay. And I'm in comedy. I don't know what to say about it. I was so blind to homophobia as a kid. I grew up in New York. I went to Stuyvesant, a really nerdy math-science school where no one had sex. When everyone asks me, 'Was it a conscious choice to be out of the closet as a comedian?' I was like, 'I don't know. Was it a conscious choice to be white? I don't know.' This is just like what I bring to the table. It's just not that big of a deal and we all have the same issues. My gay married friends with kids are just as boring and annoying as my straight married friends with kids now and I don't want to hang out with any of them, to be honest."
Watch, below.