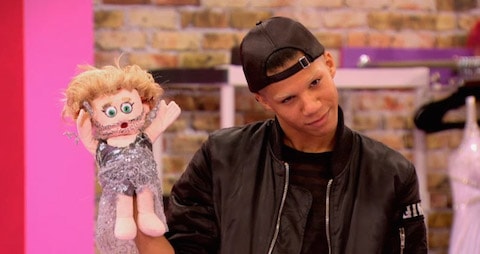 Now this is a top four!  I don't understand folks complaining about this season's crop of queens. If anything, this might be the most well-balanced group of contestants we've seen in a while. The beauty queens can do comedy. The clowns can serve look. They're savvy. They're passionate. They take criticism and use it to push themselves. I might have my personal pick to win it all, but I would be happy to see any of these gals snatch that crown.
Or maybe I'm just in a particularly good mood because my least favorite queen is no more.
Tell 'em boy, bye, and see what happened in our SPOILER-y recap and rankings below.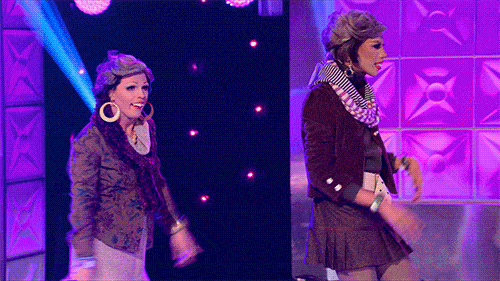 First things first, it's time to reach out and put your hand up somebody. That's right, it's puppet time. The mini-challenge is a classic: Read a fellow queen by dragging out a puppetfied version of your competitor. Bob fired off the most successful one-liners on Kim Chi, but Chi Chi picked up the win with a silly take on Bob's overwhelming personality. The real story though was how Derrick and Naomi exchanged blows, barely even trying to make jokes, opting instead to trade stinging insults.
This week's main challenge tasked the girls with creating three autobiographical looks. There's baby drag, which comes along with oversized high heels and jewelry, drag odes to their mothers and an unconventional materials dress using books and paper. Sibling judges Amy and David Sedaris joined the judging panel for the night, calling for a special group lip sync performance to a song all about Jerri Blank. (Move over, Lin-Manuel Miranda!)
Who slayed, who stayed and who sashayed? Let's dig in to this week's rankings: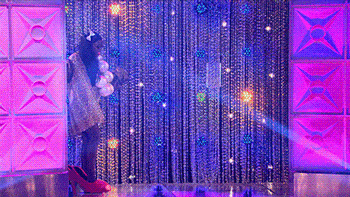 1. If anything, Bob's bottom two performance tonight only served to humanize this season's clear frontrunner. Her march to the crown needed a moment to show how Bob overcomes adversity, especially on such a small critique. Her lip sync was perfect, and it illustrated the difference between performing and performing drag. Every second we saw Bob's sync, it was entertaining. In fact, the whole time on the runway was a showcase for Bob's talent. (My favorite moment may have been when she told the judges she considered wearing a wig, "but eh." Gold.) And for the record, I really don't think Bob's makeup is a problem. Is it sensational? Nope. But it's not going to be a hindrance either.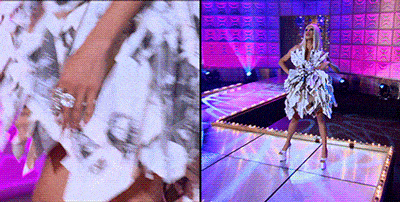 2. The exact order for the remaining queens is really neck and neck. I'd say Naomi is the surest lock for the top 3 given her consistent performance across categories. She can serve look, she can paint for the gods and she can give a competent performance (as long as it's not of New York).  Off the runway and in interviews, she's more clever than she initially seemed, and her love for her mother is very endearing. She even came around to rising above and helping Derrick with those brows. (Though, I mean, did she help? Is that what they looked like with her help?)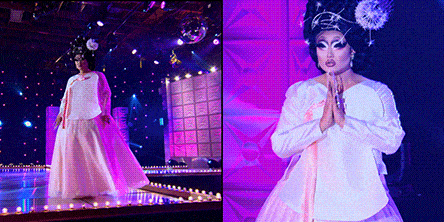 3. Given Kim Chi's complicated relationship with her mother, her second look was beautiful and somber and artful in a way we're not used to seeing on this show. It should go down as one of the series' most memorable moments. It was a brilliant touch to add a unifying theme to her three looks, comparing her own growth to that of a seedling. Kim Chi's looks and story this week were stunners, but, at this point, she feels like a surefire winner for Miss Congeniality. If this season follows a similar trajectory to Drag Races past, one of the final big challenges will be a dance-heavy, acting-heavy music video. That's not in Kim's favor. I don't know why Ru seems convinced this show will out Kim to her mother (is her conservative Korean mother really watching that much Logo?), but the one thing that is certain is Kim will be an even bigger star going forward.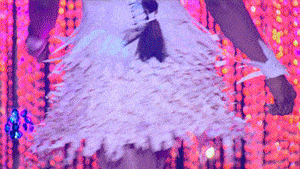 4. I'm glad they stopped editing Chi Chi as sort of over the competition. She rose to the challenge throughout last night's episode. Although I think Bob had the better puppet performance, Chi Chi had some good digs (the best of which was the one that came after she was announced the winner, using her Bob puppet to claim to win everything). Her final book dress was easily her best (and the best on the runway), plus I loved her as Jerri Blank. My gut tells me we won't be seeing Chi Chi in the top three, but I wouldn't be mad if she made the upset. Go on, country queen!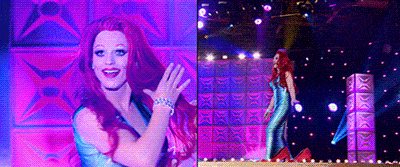 5. Ding dong, the ding-dong's gone. Derrick finally got the deserved boot. His racially-charged ignorance aside, last night's episode pushed Derrick's primary shortcoming in this competition to the forefront. This is not RuPaul's Female Illusion Race. I mean, those brows. THOSE BROWS. It was the worst paint job in Drag Race herstory. How, HOW did that happen in the top five?! Ridiculous. The lip sync only reinforced what we already knew. Derrick can dance like a pop star, but not as a drag superstar of the world. Don't serve Britney when I ordered Sylvester, honey. With Naomi, Derrick's insecurity made her mean-spirited when the shade was supposed to be fun. In the end, Derrick is simply simple, which in so many ways is opposite of the charisma, uniqueness, nerve and talent necessary.
How would you rank the queens this week?