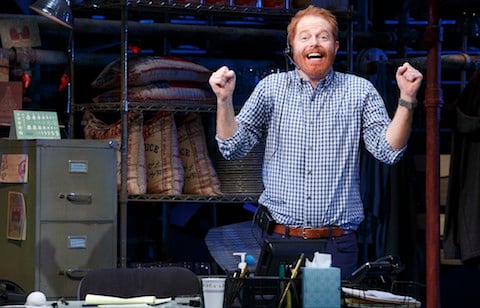 Anyone whose job history includes answering phones, managing difficult personalities, or working in the service industry may find themselves breaking into a cold sweat between laughs watching Fully Committed, which opened last night at the Lyceum Theatre.
Becky Mode's one-person satire of social elitism, which finds a reservationist (read: aspiring actor) weathering the day from hell at a red-hot Manhattan restaurant, doesn't exactly offer burning insights, but it is very, very real and quite funny — if you can overcome the anxiety of phone lines incessantly lighting up for 90 minutes.
(Full disclosure: I experienced very real flashbacks to being a Hollywood assistant.)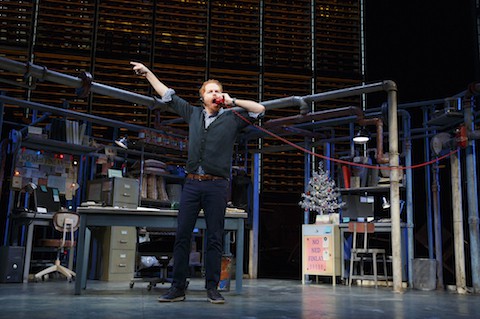 In a tireless and nimble performance, Jesse Tyler Ferguson vigorously inhabits over a dozen characters, conjuring up full conversations and relationships entirely solo. Down in the restaurant's basement (the somewhat overzealous set is by Derek McLane), poor Sam fields calls from all walks — outrageously entitled patrons, clueless tourists, Gwyneth Paltrow's assistant — all looking to secure their place in the see-and-be-seen hierarchy.
As he's bombarded with demands for reservations, Sam is grappling with his own realities: a floundering acting career, a loss in the family, not being able to eat or pee without someone to cover the phones.
Ferguson, best known for starring on Modern Family, is also a New York theatre vet and comfortably commands an audience without mugging or showboating. Under Jason Moore's subtle, sure-handed direction, Ferguson adopts simple physical cues to differentiate characters, flipping between them with ease and showing off an impressive range of voices.
In addition to a grab bag of inquiring callers, Ferguson also gives life to the restaurant's varied staff, including its French maître d', its broey celebrity chef, and a Latino kitchen worker (the show is not without its stale stereotypes), who work together to keep the plates spinning.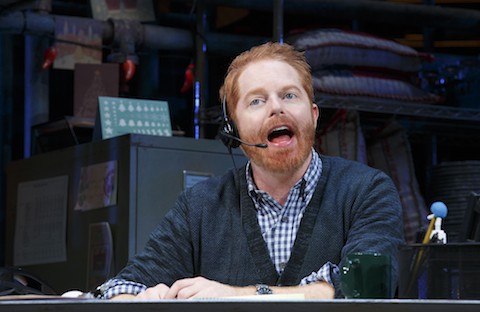 But its the more grounded characters — like Sam, his father and brother, even his frenemy acting rival — who provide a sense of who Sam is when he's not tied to the phone, and save the show from being simply a collage of impressions and jabs at it's-who-you-know culture. Because the audience actually gets to know Sam, and if you've ever hustled to achieve something, be it a career — in acting or any other business — or a reservation at the hottest restaurant in town, you're likely to recognize a bit of yourself in more than one character by the end.
Follow Naveen Kumar on Twitter: @Mr_NaveenKumar (photos: joan marcus)