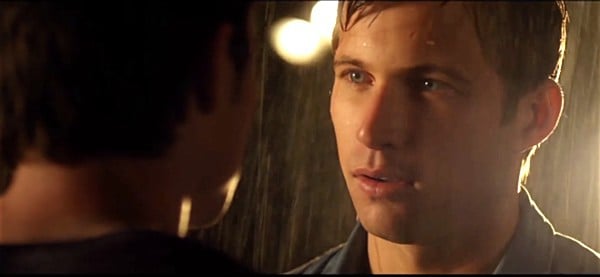 Brent Hartinger, author of The Geography Club, which was adapted into a feature film, wrote and recorded a song for his latest book, The Road to Amazing, which is the third in a  trilogy of "new adult" novels called Russel Middlebrook: the Futon Years.
Says Hartinger: "They're about a gay guy in his twenties, Russel Middlebrook, trying to make sense out of love and life."
If you've read any of his novels you'll probably have a much better context for the sweet trailer he created for his latest book, The Road to Amazing. Hartinger wrote and recorded his own song for it, and set it to  footage of Russel and Kevin from the old Geography Club feature film.
Writes Hartinger:
Flash forward to The Road to Amazing, the latest book featuring Russel Middlebook (just released!). Otto Digmore is back for Russel's wedding, and he has a new song to sing. Once again, I decided to use an actual song I had written (this time, with some help from my friend Danny Oryshchyn).
The difference? I decided to also actually sing it (with more help from my uber-talented musician-friend Jeremy Ward), and release it out into the world.
Keep in mind that I don't flatter myself a singer. I'm not even really a musician (I know about three chords on the guitar, like Ringo Starr).
That said, I do know my characters. I love trying new things. And I'm generally pretty good at faking it.
Watch the trailer: