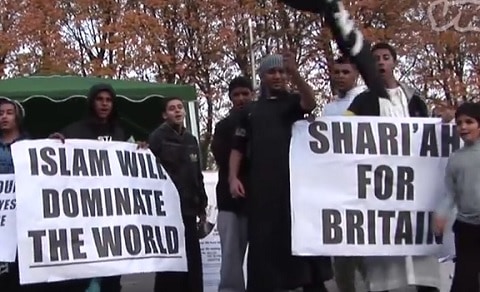 A new survey suggests that half of Muslims in the UK want homosexuality to be banned.
The survey, carried out by broadcaster Channel 4 for a programme due to be broadcast this Wednesday, is based on interviews with 1,801 muslims on issues including relationships, polygamy and law.
Presented by former head of the Equality and Human Rights Commission Trevor Philips, What British Muslims Really Think will investigate the differences between British Muslims and the rest of the country.
Of those questioned, 88% said Britain was a good place for Muslims to live in, and 78% said they would like to integrate into British life on most things apart from Islamic schooling and some laws.
However, when asked to what extent they agreed or disagreed that homosexuality should be legal in Britain, 18% said they agreed and 52% said they disagreed, compared with 5% among the public at large who disagreed. Almost half (47%) said they did not agree that it was acceptable for a gay person to become a teacher, compared with 14% of the general population…
…Nearly a quarter (23%) supported the introduction of sharia law in some areas of Britain, and 39% agreed that "wives should always obey their husbands", compared with 5% of the country as a whole. Two-thirds (66%) said they completely condemned people who took part in stoning adulterers, and a further 13% condemned them to some extent. Nearly a third (31%) thought it was acceptable for a British Muslim man to have more than one wife, compared with 8% of the wider population.
Perhaps more worrying is the fact that only 34 percent said they would report someone they knew who was getting involved with supporters of terrorism in Syria. Four percent said they sympathize with people who take part in suicide bombing to fight injustice.
Philips told the Sunday Times Magazine:
"I thought Europe's Muslims would gradually blend into the landscape. I should have known better.
"Britain desperately wants us to think of its Muslims as versions of the Great British Bake Off winner Nadiya Hussain, or the cheeky-chappy athlete Mo Farah.
"But thanks to the most detailed and comprehensive survey of British Muslim opinion yet conducted, we know that just isn't how it is."
Watch a VICE report on Muslim extremism in London below.