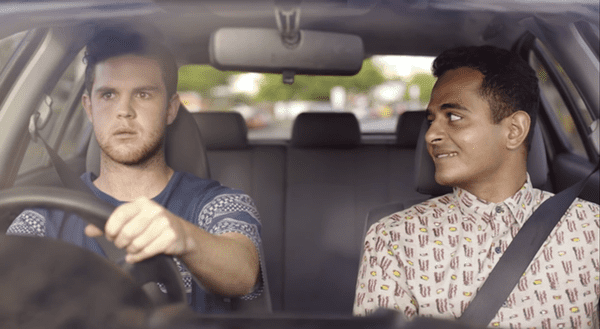 A new PSA from New Zealand's Transportation Authority uses some awkward, creepy and homoerotic moments to drive home a message about cell phone safety and driving.
In the ad titled "Hello", a series of drivers are bobbing along when their cell phones light up and chirp with notifications. While the driver in each vignette goes to reach for the phone, the passenger stops them by ever so gently holding the driver's hand (thus preventing the driver from grabbing the phone and being dangerously distracted).
The ad features two instances of male drivers sharing a hand hold with a male passenger. While any such hand-hold might be awkward, AdWeek notes that there is a small trace of homophobia in these moments:
Our only critique is small: It could be said that the agency subtly amped up the creepiness by playing on feelings of homophobia or physical desirability. It probably wasn't intentional—this is more about the awkwardness of finding a warm open hand where your phone should be—but it's worth noting, because tolerance for low-hanging comedic fruit has worn thin (and rightfully so). And frankly, it's more a good problem than a bad one to be in a cultural position where we have to update our sight gags because people want to be kinder.
Watch the ad, below.
https://www.youtube.com/watch?v=wM75ulDRkhI