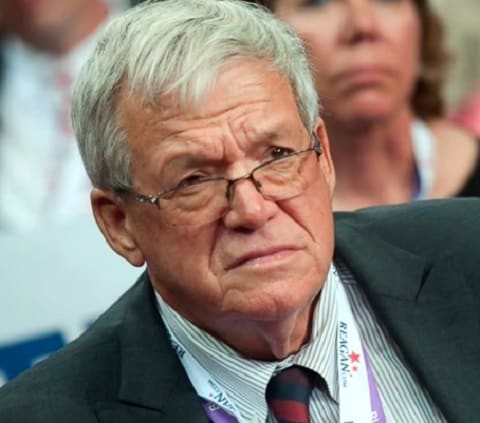 One of the four victims allegedly abused by former GOP Speaker of the House Dennis Hastert has come forward to identify himself.
The individual spoke during Wednesday's sentencing of Hastert, who in October pleaded guilty to charges brought by federal prosecutors surrounding Hastert's paying millions of dollars in hush money to his alleged victims.
Detailing Hastert's abuse, the man said he was 17 when it occurred and that it left him "devastated."
The man, previously known only as "Individual D," identified himself as Scott Cross, 53, who now lives in Chicago and works in finance. He has a wife and two children.
Prosecutors called Cross to testify as well as Jolene Burdge, the sister of an alleged Hastert victim who died in 1995. Burdge testified first and read aloud a letter her late brother wrote to their mother five months before he died of AIDS, and she accused Hastert of "sexually molesting" her brother.
"You took Steve's right to develop his sexual identity in a normal, healthy way," Burdge said directly to Hastert, who arrived to court Wednesday in a wheelchair. "Don't be a coward, Mr. Hastert. Tell the truth. What you did wasn't misconduct. It was sexual abuse of a minor."
Admonishing Hastert from the stand, she said, "You were supposed to keep him safe, not violate him," and she continued, "You took his innocence and turned it against him" turned him toward a life of high-risk behavior that eventually killed him.
"I will make you accountable for molesting my brother. I knew your secret and you couldn't bribe your way out."'
The AP notes that when testifying, Cross, "struggled to hold back tears as he described the abuse in detail, which the man said happened while he and Hastert were alone in the locker room." Cross reportedly "trusted and looked up to Hastert."
A defense attorney for former U.S. House Speaker Dennis Hastert has told a federal courtroom that he "acknowledges and respects" the pain of a man who says Hastert sexually abused him when Hastert was a high school wrestling coach. […]
Assistant U.S. Attorney Steven Block said Wednesday that Hastert's conduct while a high school teacher and coach was "horrendous."
Because of the statute of limitations, Hastert could only be charged with a financial crime related to payments he made to one of at least four victims of sexual abuse.
Block said whatever sentence Hastert gets should take into account that the 74-year-old Republican "continues to deny what should now be obvious to everyone."
Speaking before the court, Hastert would only say that he "mistreated" some of the athletes he coached and that he is "deeply ashamed to be standing before you today."
Hastert could face up to 6 months in jail. The judge could also impose a harsher sentence or let him off with probation.