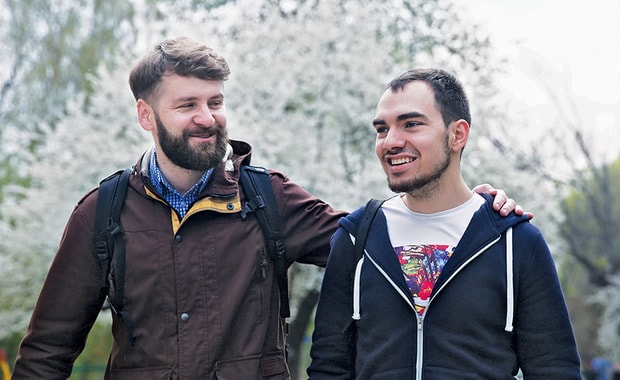 Ukraine has reportedly seen its first gay marriage despite the fact that such unions are not yet recognized by the state.
Tymur Levchuk and Zoryan Kis held a marriage ceremony in Kiev on April 9, deciding they wouldn't wait for the government or their families to codify and accept their relationship.
"We decided that we'd register our marriage in Ukraine when it becomes possible," Kis told the Kyiv Post.
Kis and Levchuk decided to marry about a year ago, as they sat on the bank of Synevyr Lake in Zakarpattya Oblast.
"It was a romantic evening," said Kis. "I felt like we are alone in the world, so I proposed to Tymur, and he said yes."
The official name for their wedding is a commitment ceremony. But someday their union will be recognized by Ukrainian society, Kis and Levchuk believe. Both are passionate activists who fight not only for equal rights for lesbian-gay-bisexual-transgender people, but also against discrimination in Ukraine.
"Activism and the Ukrainian language brought us together," said Levchuk. […]
Levchuk's and Kis's relationships began with a box of colored markers. The two young, bearded men met more than four years ago during a discussion about LGBT rights in Kyiv. The two were drawn together because they were the only ones who spoke Ukrainian. After that, they chatted on Facebook for six months.
"One day Tymur wrote to me that during preparations for yet another protest, he discovered that all of his markers were broken, so he couldn't draw a protest placard. So I decided to buy a big box of markers for him as a present," recalled Kis.
"Later we discovered that not a single marker worked. But the gesture was still charming," added Levchuk.
The couple has reportedly suffered several violent attacks because they are gay. They have taken self-defense classes and started teaching self-defense classes tailored to the LGBT community to help others be prepared to combat aggression.
Levchuk and Kis say their families have been less accepting than their friends. Levchuk says, "They don't talk about it, but always ask me to say 'hello' to Zoryan."
While same-sex marriage is not yet legal in Ukraine, Ukraine Today reported last month that the government is set consider a bill that would legalize same-sex 'civil partnerships', although not until February 2017,
[Photo via Kostyantyn Chernichkin]