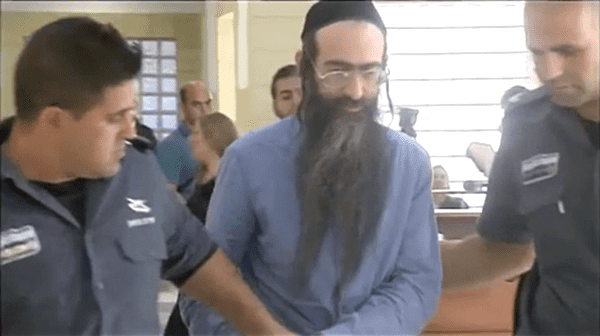 Yishai Schlissel, the Orthodox Jewish man who was arrested and charged with the murder of 16-year-old Shira Banki at Jerusalem's gay pride parade last year, has been convicted of murder and 6 counts of attempted murder.
The ruling was reached by the Jerusalem District Court. In its sentencing, the court blasted Israeli police for not stopping Schlissel, who had previously gone on a stabbing rampage at a gay pride event back in 2005. The court called the authorities' failure to prevent the tragedy "unconscionable."
The Jerusalem Post reports on the trial: 
The prosecution's first witness against Schlissel, Eran Tzidkiyahu testified about having witnessed Schlissel's carnage and stated that if he had not been Haredi, he would have been shot on the spot as soon as security noticed he was holding a knife.
Tzidkiyahu said, "a month and a half later, every person who unsheathes a knife, they shoot him even after he ceases to present a threat to civilians."
In his opening statement, Schlissel's lawyer, Public Defender Zecharyah Shinkolovsk, tried to argue that he had not intended to murder the people he attacked even if he might have intended to harm them on some lesser level.
Prosecution lawyer Oshrat Shoham disputed this argument, noting that Schlissel has not given a detailed written denial to the indictment and that they would call witnesses showing that the fashion in which Schlissel attacked was violent and with intent to murder.
At the arraignment in September, Schlissel continued a position of refusing to recognize the court's authority, stating "God, the creator of the world, did not give you authority to judge me, and so I am not interested in asking questions or responding to them."
Schlissel frequently refused to comply with his public defender throughout the trial, believing that to do so would acknowledge the validity of the court.
Schlissel's trial also brought to light more details about the events leading up to the tragic stabbing attack:
The indictment stated that leading up to the parade, Schlissel had called on ultra-Orthodox Jews in Jerusalem and Modi'in Illit to take action against it, and that on the day of the parade he purchased a 15 cm.-long kitchen knife for the purpose of stabbing participants.
Schlissel's first attempt at infiltrating the parade was stopped by police. He managed to gain entry and launch the attack by joining it from a different street.
Watch video from The Jerusalem Post, below.