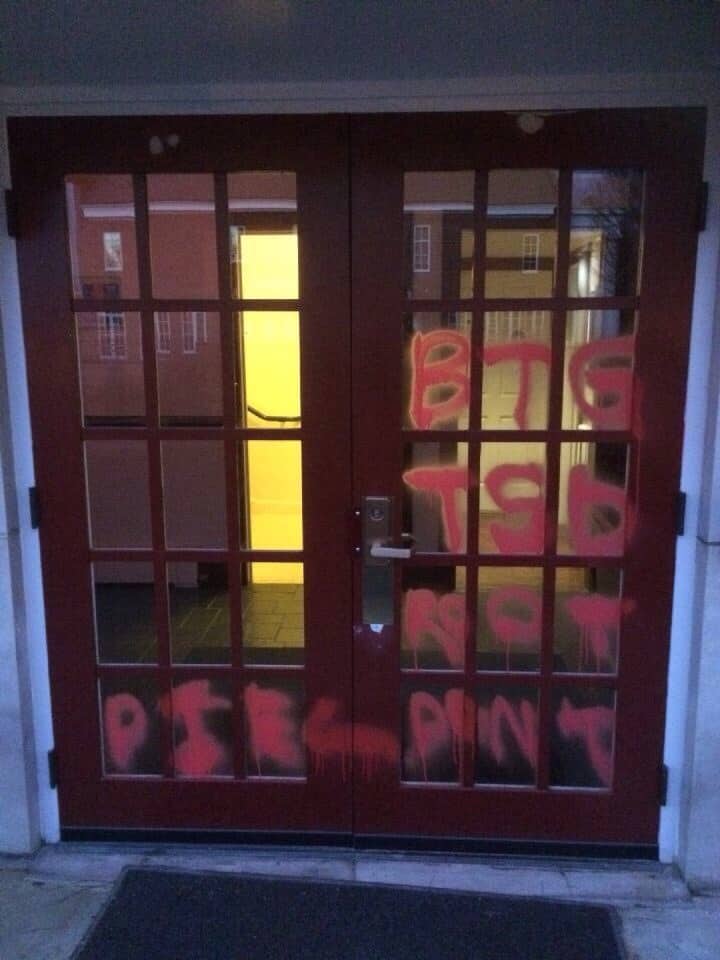 Officials in Lexington, Virginia have announced that they can find no evidence that graffiti spray-painted on a building at Washington and Lee University targeting a gay student "was intended to convey anti-gay sentiments."
"We could not conclusively determine that the graffiti was directly anti-gay," Commonwealth's Attorney Christopher Billias wrote in an email, "as it appeared to be just odd and unconnected rambling."
University officials, however, are standing by an earlier statement by the dean of students, who wrote in a message to the campus community that the vandalism "included anti-gay sentiments directed at an individual student" who lived in W&L's Sustainability House on East Nelson Street.
Billias said that while he understands the university's position, his review focused on the kind of charge he had the ability to bring. "As a criminal matter, all we have is the vandalism," he wrote.
Sheamus Craugh, a W&L student at the time of the incident, has been charged with felony vandalism. Craugh no longer is enrolled at the university.
Police have said spray-painted messages discovered March 3 on the Sustainability House and several nearby parked cars included the words "flame boy" followed by the name of a student living in the school's theme-based housing.
Craig was reportedly a member of the university's Beta Theta Pi Fraternity. The fraternity condemned the vandalism in an email sent to students by the university. Via student news site Ring-tum Phi: 
"The men of Beta Theta Pi stand with the EC in their condemnation of this virulent action," the email said. "No member of Beta shares the beliefs portrayed in Davidson Park."
President of Beta Theta Pi Fraternity Patrick Quinlan '17 said the fraternity promptly dealt with the issue.
"Upon learning the details of the incident, the leadership of the fraternity took immediate action to inform the proper members of the administration of the actions of our former member and promptly terminated his membership in our organization," Quinlan said in an email.
The target of the graffiti, Elliot Emadian, said in an email, "There were several things written on [Sustainability House], one of which happened to be a gay slur followed by my name. So yes, I believe I was the intended target of that particular remark."
He later told The Roanoke Times, "It is clear, to me at least, that there is no context or situation in which this term could be used that would not suggest anti-gay sentiments.
He added, "I don't think it's my prerogative to say whether or not I was being targeted. Only Sheamus will really know what his intention was that night."