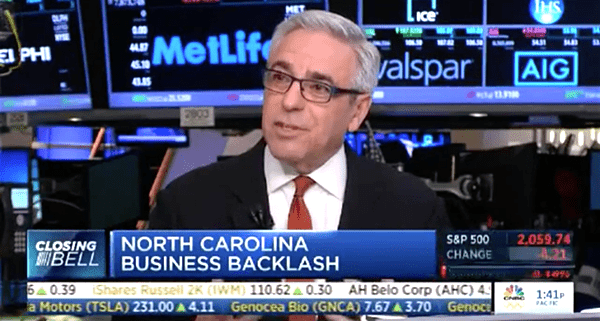 Mitchell Gold, founder of the North Carolina-based furniture retailer Mitchell Gold + Bob Williams, has blasted North Carolina elected officials who support the state's newly-enacted anti-LGBT law, HB 2.
Gold appeared on CNBC's Closing Bell on Thursday to denounce the legislation and explain exactly why it is so harmful.
Gold was one of the signatories on the Human Rights Campaign's letter from business interests calling on Governor Pat McCrory to repeal the bill.
Of why HB 2 negatively impacts business in North Carolina, Gold said,
The big problem is for recruiting. When you want o recruit talent, creative talent, they really take a second look whether or not they want to come to a state like North Carolina now that has this kind of exclusionary legislation. It's not inclusion at all and when these guys talk about inclusion they are talking out of both sides of your mouth.
But for Gold, HB 2 isn't just about hurting his business:
I want to say one other thing. Even though I'm a business person, this legislation is not just about business. This legislation is about, what if you're a fifteen-year-old kid, you're struggling with your sexual orientation, your gender identity, and now on the news you have to see politicians, people you should be looking up to, the governor, you have to see these people talk about how you are broken; how you are not fit to use the restroom that you want and have that personal dignity; how you aren't protected in the workplace…it's outrageous, that young kids should have to go through this kind of turmoil in life and see that from their leaders.
On why HB 2 was ushered in, Gold added,
The reality is that fundamentalist Christians just hate the idea that gays will have an equal place in the workplace. They hate the idea that two gay guys are going to be married because they think that little Joe or little Sally is going to be gay because I'm married to my great husband in North Carolina.
And as for Lt. Gov Dan Forest, who was also recently on CNBC, insisting that HB 2 is not discriminatory, Gold said, "He's back in the Dark Ages. He's got a world view of Christianity that's a thousand years old."
Watch a clip of the interview, below.