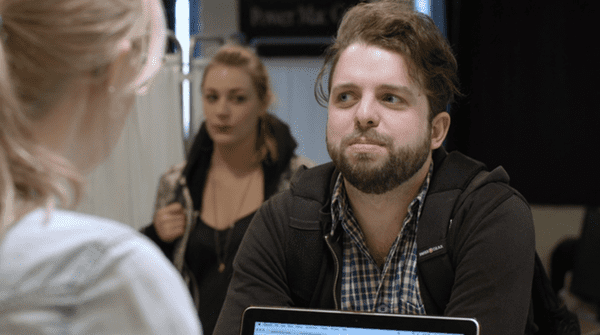 Has your laptop ever crashed while you were watching a movie that was rated X (or rated XXX)? This week's episode of popular series Tough Love explores what it feels like to take your erotica-filled laptop into the shop for repairs.
Creator Steven Bell told us about what inspired the episode.
"It's possible I'm the only one who's experienced this," Bell says, "but do you know that feeling when you're laptop is on the fritz and you know it's going to die soon, but you still haven't deleted all those raunchy videos off your hard drive? This episode's about what happens when your computer dies while you're watching porn. Someone has to fix it and that person is going to see how nasty you really are. I had a conversation with an Apple Store employee who says he's seen more nudes of random people at work then he's ever seen in his personal dating life. It's a really humiliating, awkward situation for the repair person and the customer bringing in the computer. So of course, I wanted to make an episode about it."
The other half of the episode follows Blaire as she tries to get her fitness on. She forces herself into lunch plans with some NYC fitness aficionados (below) and things get awkward.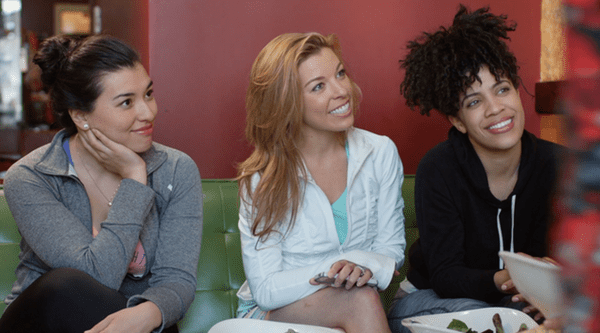 Bell continues,
"This episode is called 'Shame.' It's one of my favorites of the season. We get to see both Steven and Blaire in very humiliating circumstances and I would say this is our most character defining episode yet."
This episode also features two notable guest stars, Beth Hoyt (Inside Amy Schumer, Brooklyn Nine Nine, High Maintenance) and Angela Struck (Louie, Last Week Tonight with John Oliver).
Watch, below.
(Caution: sympathetic vomiters may want to look away for the opening scene.)
To catch up on the third season ofTough Love, click HERE.