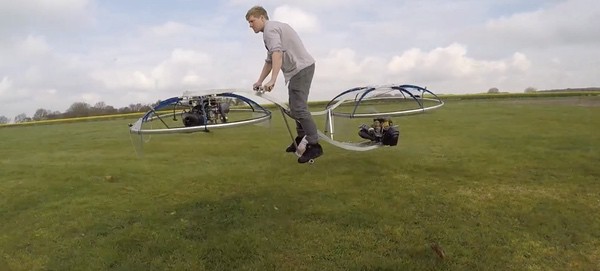 Colin Furze is a British plumber, engineer, and inventor known for his crazy contraptions, but his latest – a homemade hoverbike –  looks as though it could thrill you and kill you if you got anywhere near its spinning blades.
Says Fruze:
"Controlling this thing at all is a small miracle, but with a little practice you can start to tame it."
Writes Colin Furze of his flying craft:
What a creation, it's a unhinged flying bike/human blender but unbelievably it gets off the ground and actually FLIES. Considering the amount of time i've spent on this and the fact this is my first EVER attempt at making anything that leaves the ground this is well and truly a job well done, it's easy to overlook the true scale of what takes to make something like this work at all.
"[The project's] been going on over the past three months, but maybe only four to five weeks have been spent on it as I spent a lot of time waiting for parts like the propellers," Furze told Mashable.
Watch: