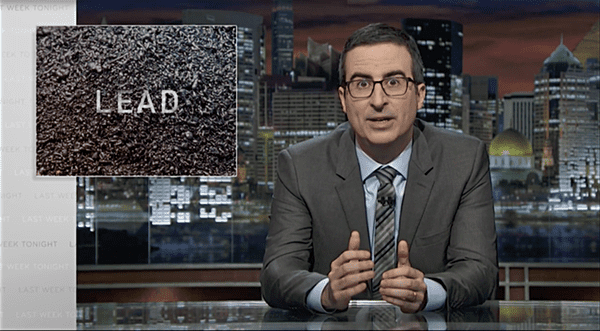 Lead poisoning has received a lot of primetime news coverage this past year as a result of the Flint water crisis. However, lead is a problem that affects not just Flint but the entire United States, as John Oliver points out on Last Week Tonight. And it's not just our water pipes we have to be worried about either.
Oliver explains: "Even if we did replace all the lead pipes that still wouldn't come close to stopping lead poisoning as one lead activist reassuringly puts it."
Said Elizabeth McDade of the Coalition to Prevent Lead Poisoning, "Kids are not going to get poisoned from a  water fountain at their school. They're not. They're going to get poisoned from pain from their homes."
Delving into the threat of lead poisoning in children's homes, Oliver says, "2.1 million homes [in the U.S.] have a lead dust hazard and a child under six…Lead is almost as much of a scourge in young children's homes as Frozen merchandise. Why do you need three loafs and a singing Elsa, Mackenzie? Let 'Let It Go' go!"
And while you may be thinking a little bit of lead dust is not a big deal, Oliver wants you to know that it is a big f*cking deal:
"There is no safe level of lead. It's one of those things so dangerous you shouldn't even let a little bit of it inside you—much like heroin…or Jeremy Piven. Even low-level exposure can lead to irreversible damage, like lower IQs, antisocial behavior, and reduced attention span."
Thankfully, the U.S. has banned the sale of lead paint but that doesn't account for the massive amounts of existing lead paint in homes across the country. The removal of lead in homes was appropriated just $110 million this past year by the GOP-controlled congress. And while many of Republican members of congress were happy to act outraged about the lead crisis in Flint–
–many of them also voted to cut the federal government's spending to help combat the lead crisis. Via The Daily Beast:
"You would think that our members of Congress would be onboard with doing more to fight lead poisoning. After all, you remember how angry they were about all those kids who got poisoned in Flint, right?" said Oliver, before cutting to that same earlier footage of Rep. Mark Meadows (R-NC), Rep. Tim Walberg (R-MI), and Rep. Jason Chaffetz (R-UT) denouncing the Flint crisis.
"Concerned?" Oliver continued. "That's what makes it so frustrating that last year, all of those men voted for a bill that would have reduced the already low funding for HUD-led abatement programs by $35 million, amounting to a 32 percent cut. And the truth is, if you cut funding like that, a whole lot more children might get poisoned."
Oliver concluded, "I thought poisoned children was something we were all justifiably outraged by?"
Oliver then created a Sesame Street sketch to try and underscore the significance of the lead problem in America. (Sesame Street originally created a sketch about lead poisoning 20 years ago.)
Watch Oliver's deep dive, below.