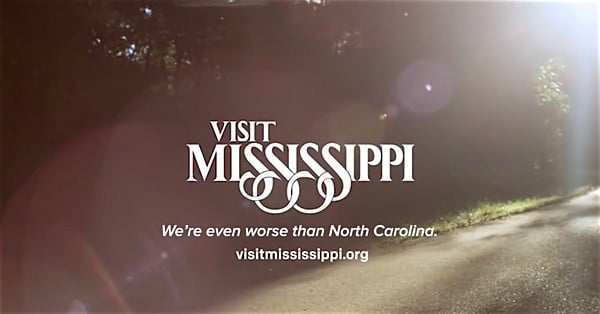 A new Mississippi tourism ad created by Funny or Die champions the state's discriminatory qualities following today's signing of the worst anti-gay "religious freedom" bill in the nation by Governor Phil Bryant.
Says the ad:
"Thanks to Governor Bryant, we have an oppressive law to match our oppressive heat. Here you can march to the beat of your own drum as long as that beat harkens back to 1888. Visit one of our soul food restaurants and swallow your sense of humanity. Toast to being the state with being the third highest teen pregnancy rate. Come dance your heart out without the fear of gay man or lesbian showing you up."
Finally, it proclaims, "We're even worse than North Carolina!"
Watch:
You may recall that last week Funny or Die released a hilariously sad commentary on North Carolina's anti-LGBT law HB 2 by making the state its own tourism commercial.