DAYTIME. Andy Cohen thinks Anderson Cooper would make an excellent co-host to replace Michael Strahan on Live with Kelly Ripa.
Andy Cohen Thinks Anderson Cooper Is the Perfect Replacement for Michael Strahan https://t.co/t3B9hEUbSD pic.twitter.com/ArXU0Vyx8I

— Bravo (@BravoTV) April 21, 2016
MISSOURI. Lawmakers delay vote on anti-LGBT constitutional amendment: "The bill, SJR39, is even more extreme than most of the other 200 or so so-called 'religious freedom' bills and laws that have passed this year across the nation's legislature. If it passes the House, it will bypass the governor and become a ballot initiative in November. Voters would then decide if they want discrimination against LGBT people written into their state constitution."
RIP. Remembering Prince in GIFs. Also, President Obama shares a tribute. 
#RIPPrince The I-35W Bridge will reign purple tonight. pic.twitter.com/FDjwRZnEQA

— Minnesota Department of Transportation (@MnDOT) April 21, 2016
STEAMY. Former ANTM judge Rob Evans heats up the internet.
RUNNING MATES. Hillary Clinton's campaign manager says women will definitely be on the list of potential VP candidates should Clinton get the nomination: "We'll start with a broad list and then begin to narrow it. But there is no question that there will be women on that list."
SCIENCE. Cells with HIV appear to age faster according to new research: "Researchers from the University of Nebraska and University of California-San Diego analyzed 137 people with HIV and 44 people without the virus. They found tell-tale signs of 'aging' in the cell's DNA by looking at specific biomarkers associated with aging. The people with HIV had changes in their DNA that were more common in the DNA of someone five years older, according to the study."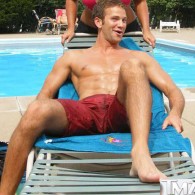 SPOTTED. Former Congressman Aaron Schock out and about in Georgetown and "dressed impeccably": "Schock was reportedly sitting with an unknown male pal and appeared to be drinking a Manhattan."
PrEP. UK's National Health Services (NHS) to revisit bringing PrEP across the pond: "NHS England will now meet in May to decide whether or not to include PrEP in its remit. Should this occur, it will be down to the Clinical Priorities Advisory Group (CPAG) to decided whether it is comissioned on the NHS for 2016/17 – at a meeting set to take place in June."
BIGOTRY. Louie Gohmert threatens Target with boycott over pro-LGBT bathroom policy.
https://www.youtube.com/watch?v=o77ikM2X6VU
THURSDAY THIRST. Served by Kevin Wei.
https://instagram.com/p/qyGDGdEsQ7/
https://instagram.com/p/p044VyEsTv/
https://instagram.com/p/mxW_NWEsTo/