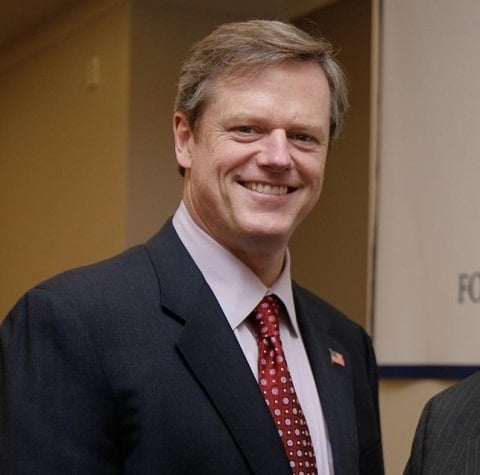 Charlie Baker (above), the Republican Governor of Massachusetts, has shown signs that he does not intend to veto a bill extending rights to transgender people in the state.
Last week, Baker was booed off stage while speaking at an LGBT event for failing to take a position on the bill that would prohibit discrimination against transgender people in restaurants, malls, and other public accommodations.
In a radio interview broadcast last night, Baker again refused to explicitly state his position, instead repeating that he thinks it is best to wait for the Legislature to do its job. He also fell back on his frequent refrain, "I don't think we should discriminate against anybody."
However, according to the Boston Globe, those comments coupled with a statement from his spokeswoman suggest that he is unlikely to veto the legislation.
Great statement by Gov @CharlieBakerMA pic.twitter.com/PPq9QNgvbd

— JMichael_Here (@Editor_JMike) April 22, 2016
Asked what he thought of Donald Trump's comments against North Carolina's transgender "bathroom law," Baker spokesperson Lizzy Guyton replied by email:
"The governor supports 2011 transgender protections and believes no one should be discriminated against based on their gender identity, and looks forward to reviewing a bill should the Legislature act. Governor Baker believes people should use the restroom facility they feel comfortable using."
Freedom Massachusetts campaign manager Carly Burton said she welcomed Baker's comments "opposing discrimination and, as part of that, supporting the ability of transgender people to use the restrooms that match who they are."
"He has been," Burton continued, "on the right side of history on other important LGBT issues, and we hope he'll do the same with the transgender public accommodations bill by signing it into law. We urge the Legislature to move quickly to send the bill to Governor Baker's desk."
Democratic Massachusetts House Speaker Robert A. DeLeo said he expects the bill to pass next month.
Watch Baker get booed off stage at the Boston Spirit Magazine's LGBT Executive Networking Night last week.
(Image via Wikipedia)