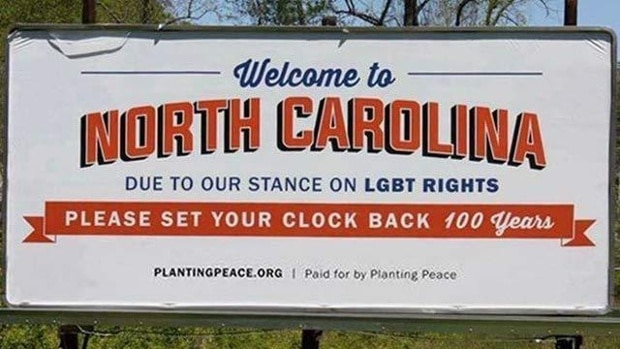 LGBT rights group Planting Peace is trolling North Carolina after the state passed a discriminatory bill banning all local LGBT rights ordinances.
The group erected a billboard (above) in the Tar Heel State that reads, "Welcome to North Carolina. Due to our stance on LGBT rights, please set your clock back 100 years" [punctuation added].
Planting Peace has become known for publicly taking anti-LGBT foes to task for their bigotry. Just last week, the group created a billboard in Mississippi to call out that state for its newly enacted anti-LGBT bill (HB 1523) that has been called the worst religious freedom bill to date in the U.S. That billboard showed a picture of Jesus looking ashamed next to a caption that read, "Guys, I said I hate figs and to L<3ve they neighbor."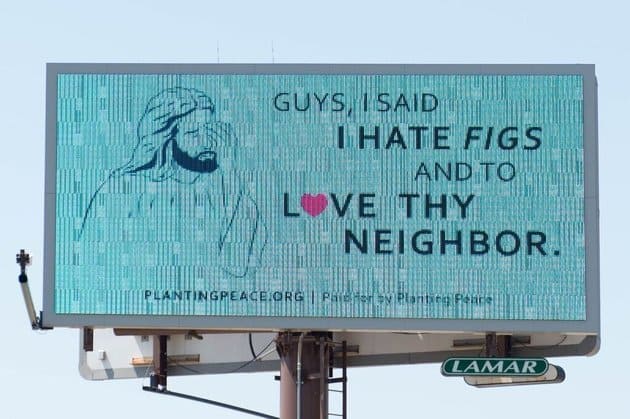 WYFF 4 reports on Plantin Peace's billboard in North Carolina:
The billboard, near Hendersonville, North Carolina, is Planting Peace's reaction to North Carolina legislation passed on March 23 to strike down a Charlotte anti-discrimination ordinance that would have safeguarded the rights of those who are lesbian, gay, bisexual and transgender.
Said Planting Peace in a statement posted on their website, 
On March 23, in a specially-convened session, the North Carolina legislation passed into law HB2, a law that was initiated to strike down a Charlotte anti-discrimination ordinance that was set to go into effect April 1 and would have extended rights to the LGBT community.
Since HB2 has been signed into law, North Carolina has been met with backlash from the business community, legal challenges from LGBT rights groups and outrage from citizens throughout the United States.
When North Carolina and other legislators pass anti-LGBT laws and speak anti-LGBT rhetoric, they are sending a direct message to our LGBT family that they are somehow less than, broken, and not equal under the law. These messages reflect why suicide rates among the LGBT community are so high. It's estimated that half of transgender people contemplate suicide.
In response to North Carolina passing of HB2, Planting Peace has constructed a message to North Carolina legislators and the anti-LGBT movement.
Our billboard is a reminder that laws such as HB2 move us backwards in the movement for equality and fundamental human rights for all. It is also meant to show the LGBT community and North Carolina that advocacy groups such as Planting Peace and others are willing to fight.
We have to meet hate with love; intolerance with compassion. To deny any individual basic human rights based on your individual beliefs is outrageous and unethical.
Our message to our LGBT youth is simple:
You are loved, valued, supported, and beautiful. There is nothing wrong with you, and we will stand by you. You are not alone.