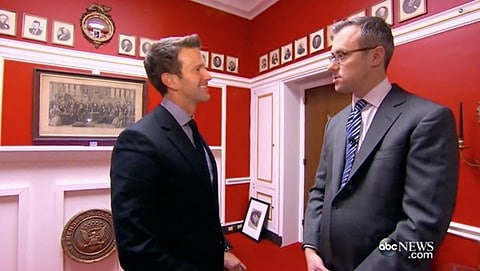 Four staffers in the U.S. House of Representatives have been subpoenaed as part of the ongoing federal probe into Aaron Schock's alleged 'misuse' of taxpayer dollars to finance his lavish lifestyle.
News of the subpoenas comes as new reports have questioned why the investigation into Schock's reported wrongdoing has dragged on for more than a year. 
Four Congressional staffers notified the U.S. House on Monday that they were subpoenaed by the federal court in Springfield, the same court that has been hearing grand jury testimony involving former U.S. Rep. Aaron Schock.
The financial chief for the House, Traci Beaubian, and three other staff members wrote letters that were read on the House floor Monday, notifying the house about the subpoenas, according to video of the letters being read and House records noting the letters had been received.
The letters did not mention the subject of the subpoenas in the same court where a grand jury has been examining Schock's conduct since April 2015. Several former Schock staffers have testified in the closed-door proceedings, and Politico has tried to intervene to have records entered in court unsealed, but the judge in charge of negotiations regarding Schock's turning over records to the grand jury has so far rebuffed those efforts, including in an order March 30.
The grand jury in Illinois has heard testimony about how Schock (R-Ill.) spent taxpayer and campaign money during his time in office. The grand jury started hearing testimony more than a year ago.
Schock resigned more than a year ago, after POLITICO raised questions about alleged discrepancies in mileage reimbursements on his SUV.
Schock first became entangled in scandal after questions surfaced about the decorating of his D.C. congressional office in the style of Downton Abbey (and, more specifically, who payed for said decorating).
Schock resigned from Congress a little over one year ago.