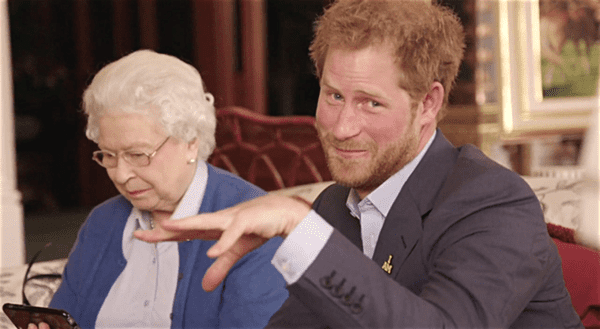 In a new video promoting the upcoming Invictus Games in Orlando, Florida, Queen Elizabeth II and Prince Harry almost literally drop the mic on President and Mrs. Obama.
The video opens with The Queen and Prince Harry looking over a pamphlet for the games when Harry gets a message from Michelle Obama.
As a message from Michelle Obama pops onto his screen, the Queen, in a cardigan and pearls, leans in for a better look. The Obamas, who last week visited the Queen at Windsor Castle for lunch, ping into view.
"Hey Prince Harry," says a stern looking Michelle, arms crossed standing next to her husband. "Remember when you told us to bring it at the Invictus Games?"
"Careful what you wish for," interjects the president waving his finger as a team of serviceman joke around in the background and one says "boom."
"Boom, really, please," remarks the Queen, deadpan.
Unfortunately for you @FLOTUS and @POTUS I wasn't alone when you sent me that video 😉 – H.https://t.co/sjfSQvkzb6

— The Prince and Princess of Wales (@KensingtonRoyal) April 29, 2016
The video will no doubt remind you of the Queen's famous cameo in the opener of the 2012 London Olympic games.