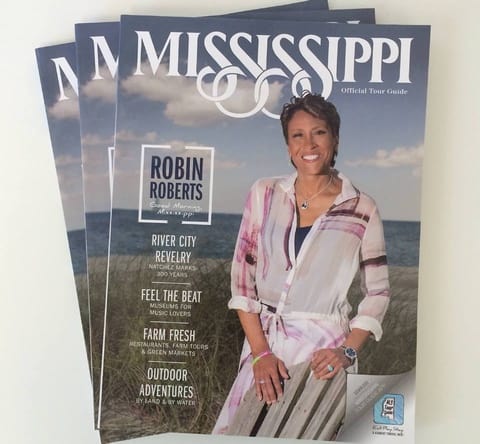 This week we reported that out lesbian Good Morning America host Robin Roberts is featured on the cover of 2016's 'Official Tour Guide' for Mississippi. Mississippi of course, last week passed a law which sanctions anti-LGBT discrimination based on religious beliefs.
She released a comment on Friday regarding the anti-LGBT law which WLOX published in full:
My father, Colonel Lawrence Roberts, was assigned to Keesler Air Force Base in Biloxi in 1969. During his military career we lived in many states and countries. When Dad retired from the Air Force in 1975, we chose to stay in Mississippi. We fell in love with the Magnolia State for many reasons.
Last year well before recent events, I was interviewed and photographed to be on the cover of Mississippi's official state tourism publication. I've often boasted about the beautiful people, delicious food and my picturesque hometown of Pass Christian.
My longtime partner, Amber, and I have always felt welcomed in my home state, and it hurts my soul to think of anyone not feeling welcome.
It's always been a deeply held belief of mine that everyone, everywhere should be treated equally.  I'm proud that my beloved mother and father taught me as a child growing up in Mississippi to focus on the many things we all have in common, not our few differences. And what we all deserve to have in common is the right to be treated equally.
Last night, MSNBC's Rachel Maddow reported that several agencies in the Obama administration are considering cutting billions of dollars in funding to the state over the discriminatory law.