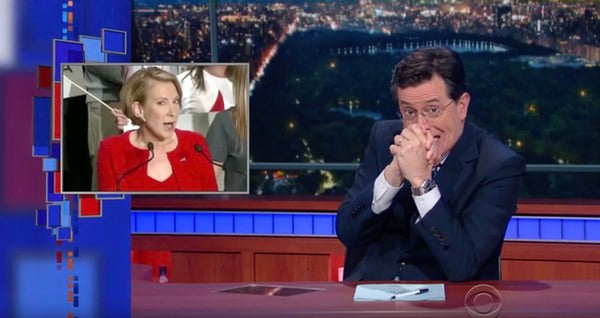 Stephen Colbert didn't hold back in his look at Ted Cruz's announcement that he's chosen Carly Fiorina as his running mate, calling her a 'wicked stepmother'.
"I'm still reeling from the news out of the Ted Cruz campaign. First, that there is still a Ted Cruz campaign….second, that he named a running mate yesterday. That is bold."
Colbert then looked at the 'historish' moment, comparing it to a cat poster with the slogan "Hang in There, Baby."
Colbert applauded Cruz's "huevos rancheros" for choosing a running mate so early in the game, and then proceeded to liken it to the captain of the Titanic announcing a "vice captain" as the ship is going down.
But Colbert saved the most glee to mock Fiorina's "lullaby" for Cruz's children: "It's like Disney gave the wicked stepmother her own song."
Watch: