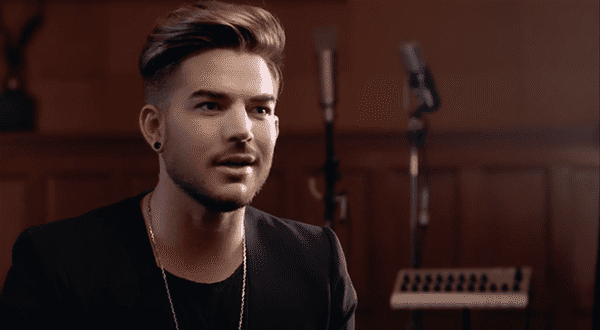 Adam Lambert talks about his experience growing up gay, coming out to his family, and learning to love who he is in a new video in which he explains how life 'got better' for him after coming out.
Originally founded by Dan Savage and husband Terry Miller in 2010 in response to a spate of LGBT youth suicides, the "It Gets Better" Project was intended to prevent suicide and provide comfort and solace to young people struggling to understand their sexual identity
Lambert reveals that for him, it was around puberty when "everything got kind of strange," and he quickly realized he was different from most other boys his own age. That feeling of being different and not seeing any visible out gay men who could serve as role models left Lambert isolated. "It makes you feel like an outsider, for sure," he says. "I kind of hid. I hid from being my true self. Because I knew I was going to be a target if I did that."
As he moved into high school and started finding a community in choir and theatre, Lambert also began to see positive representations of LGBT people in media, namely Pedro on The Real World and the sitcom Will & Grace.
Of coming out, Lamberty says it was his mother who outed him. And after coming out to both his parents, he had a sense of relief. "It's so funny because in my head as a teenager it seemed like such a big deal," Lambert recalls. "When it all finally happened, it was kind of like, 'That was easy.'"
As Lambert began pursuing a career in entertainment in Los Angeles, however, he still found that people were not willing to accept him. When he appeared on American Idol, rumors began to swirl about his sexuality and pictures of him kissing boys also emerged. When asked about it on the red carpet of the Idol premiere, Lambert said, "That's me and I have nothing to hide."
Lambert believes that owning his identity and bucking what others consider "normal" has been a huge part of his success. He hopes that LGBT youths currently struggling with their identity will eschew self-consciousness in favor of self-confidence.
"For the one kid maybe who's searching for some sort of answer or some sort of confidence, [who's fighting] fear of, 'What are they gonna say? What are they gonna think?' You gotta let that go. That's the thing that's in your way."
Watch, below.