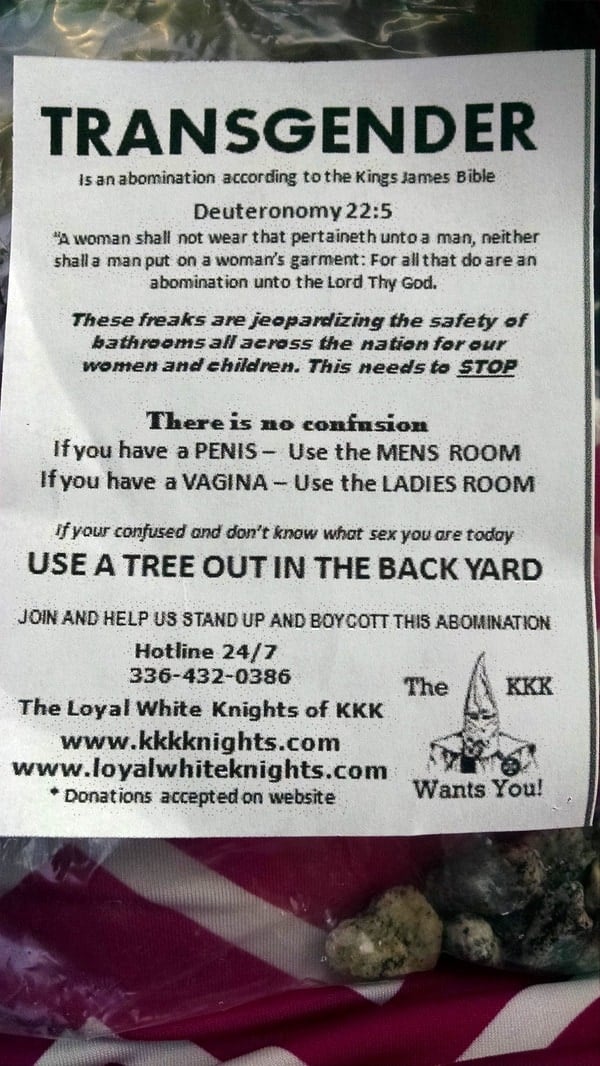 The Ku Klux Klan is reportedly distributing fliers to residents of Dothan and Mobile, Alabama, urging people to join them to "boycott this abomination."
The fliers quote Deuteronomy and reads: "These freaks are jeopardizing the safety of bathrooms all across the nation for our women and children. This needs to stop."
They also contain the sick advice: "If your (sic) confused and don't know what sex you are today USE A TREE OUT IN THE BACK YARD."
While they seem to be suggesting that trans people use a tree to go to the bathroom, the allusion to lynching is not lost on anyone, particularly those commenting on Facebook, where an image of the flier was posted.
Police are investigating, the Dothan Eagle reports:
Capt. Will Benny, the supervisor of CID, said a man made a report to the Dothan Police Department on Monday of having received a flier from the Ku Klux Klan (KKK) at his home. Benny said the man, an east Dothan resident, also reported his neighbor had received one too.
"It appears to be against transgender and transgender bathrooms and it was basically a recruitment flier," Benny said.
Benny said there was actually no crime committed in the distribution of the flier, which he said also solicited donations from the public. Benny said the KKK flier and report were forwarded to the FBI as intelligence information.
Capt. Stacy Robinson also said the flier was forwarded to the FBI as a precautionary measure.
"Obviously any time you get hate-related material there's a reason to be cautious and to investigate it," Robinson said.
Similar fliers were also left in Mobile, the paper reports.