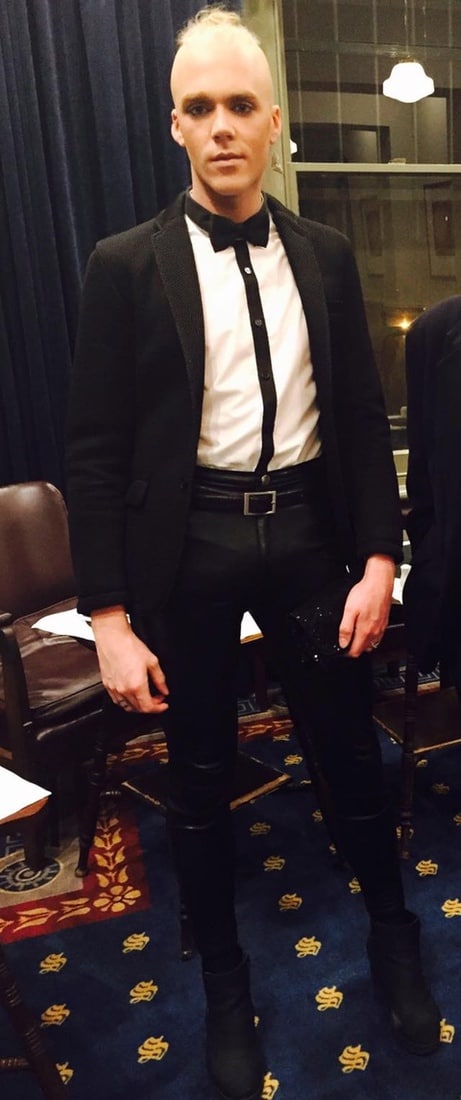 Angus McCormack, a gay former student of Girton Grammar School in Bendigo, Australia, is going viral on Facebook after describing the humiliating experience he faced over being told to leave a major school celebration at the Sacred Heart Cathedral for being dressed "inappropriately".
Angus believes he was discriminated against, and so did his father, a school board member who supported his son, walked out, and resigned. Angus has since taken his case to Facebook, where it is quickly going viral with more than 5,400 shares and 18,000 likes as of this posting.
Read his note below:
Dear friends, family and colleagues.
It is with great sadness that I write to tell you about such an outrageous and disgraceful event in which I was involved on Friday 6 May.
On that day, I returned to my hometown of Bendigo for the weekend and decided to attend an event organised by my former high school (Girton Grammar School). The annual Foundation Day Service is held in the Sacred Heart Cathedral and this year honoured the one hundred and thirty third year of the school.
My Father was just one of many members of the school Board, and asked me to accompany him to the event. This is of course was very fitting given that I was not only a past student, but also the school captain of 2013. My father courteously advised the school of my attendance to which they replied and specifically noted that "…I respectfully ask that Angus wear appropriate attire…" for the event.
Now, those who know me are fully aware that I am openly gay and very confident in my often "bold" choices of fashion. (I was originally considering rocking a dress and some killer heels!) However, I decided to "tone down" my appearance and be respectful to their wishes. Therefore, I decided to wear minimal makeup, a single small earring, neat black leather pants, a white shirt with a black bow tie and black designer jacket. A suit by any definition of the word, although not in the typical commercial fabrics.
Upon my arrival at the Cathedral, after greeting a lot of excited staff and students on my way in, I was approached by the deputy head at the aisle and without even greeting me she told me I was "inappropriately dressed" and commanded that I "…leave the event."
To avoid further embarrassment and a potentially ugly scene, I decided to graciously turn away and walk out. Although my Father as a Board member (at the time…he has since resigned!) had duties to perform at the service, he was so disgraced by my refusal of entry that he departed with me to support me in my rejection.
The situation is now growing greater awareness as people who saw what happened talk and I have had an outstanding amount of support and encouragement from a lot of family and friends so far which has been amazing. My family and I are incredibly hurt by the actions, which have been exercised against me and despite trying to remain my bubbly and confident self, this is eating away at the core of who I am, not to mention the utter sense of despair I have suffered in being turned away by the school with which I was once so proud to be associated with.
Since I have not been contacted by anyone currently at the school let alone received any remote form of apology or acknowledgment, I have decided it is time to take things further. I am not only seeking fair treatment for myself, but I also want to fight for all those people out there who don't have a voice, who don't know who they are and who can't openly express themselves. Its 2016! This kind of discrimination against any person regardless of their gender, race, sexual orientation or beliefs is just utterly appalling. Funnily enough, the school seems to believe that this issue will disappear and not affect their reputation or enrolments.
If you truly believe that I have been mistreated by the School, the best way that you can assist for now, is to write an email to the Headmaster (as long or short as you like) at ([email protected].au) and express your concerns directly to him. He needs to hear that the community does not condone this intolerable behaviour in our society today. I have attached a photo of my outfit from the evening below if you wish to make your own judgment on what you think is "appropriate or inappropriate".
Thank you so much for taking the time out of your busy lives to read this, it truly means a lot to me.
Regards,
Angus McCormack.
The school's headmaster told the Herald Sun he is not apologizing:
"These are our standards and I am not going to apologise for that," he said. "It's not about self expression — he got it wrong on the night."
Mr Maruff told the Herald Sun suggestions Mr McCormack was discriminated against because of his sexuality was "rubbish".
Angus's father Chrisopher disagrees, and released this statement:
I made a voluntary decision to resign as Director of the GGS Board after writing to the School asking for an explanation as to what exactly it was about Angus' choice of clothing that was inappropriate and why he was singled out. That answer has still not been forthcoming, but I became aware that I could no longer participate in a governing body of the School that clearly does not demonstrate the values of inclusivity, diversity and tolerance it promotes. My priority is my son and the support that I have for him and in that respect the choice was not difficult. I don't think that is extraordinary by any means.
•The consequences mean that I am now distanced from the Board and have no further involvement in the governance role of the School. I still have a child in the school and it is important that I attempt to protect him and ensure that he is not subject to adverse exposure or publicity as a result of what happened.
I have a strong relationship with both my children and I want to provide them with the best possible education for life… not just their academic education, but also their understanding, acceptance and appreciation of others expression and individuality. We have tried to teach them respect and integrity in how they conduct themselves in public, but that does not mean stifling their individuality or compromising who they are.
Edmund Burke is quoted as saying 'the only thing necessary for the triumph of evil is for good men to do nothing.' I don't wish to be a father who does nothing. I believe it is my responsibility to stand for what I believe in, just as it appears Girton is clutching to something that some of their leadership group believe in…. it just happens to be vastly different.