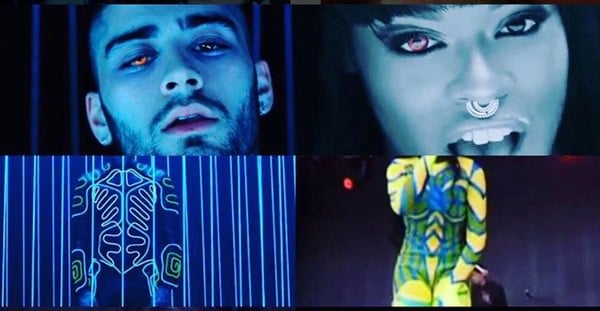 Loathsome, foul-mouthed rapper Azealia Banks unleashed a tweetstorm of racist and homophobic slurs against Zayn Malik last night after she accused him of stealing her ideas for his latest video "Like I Would".
"Damn Zayn be mood boarding the f–k out of me" she wrote via Instagram, sharing stills from his latest video for "Like I Would," and other images of her work which she claimed were very similar. "I'm not mad about this though," she added. "Zayn is a cutie pie."
Initially silent, Malik eventually responded. "@AZEALIABANKS why you been saying nasty things about me? I wasn't talking about you lol," he tweeted.
Banks then unleashed a barrage of abuse at Malik.
https://www.instagram.com/p/BFO6qsqn1by/?taken-by=azealiabanks&hl=en
Among Banks's hate speech gems:
"Dude, I make better music than you. Simmer down with that fake white boy rebellion and that wannabe Beiber (sic) swag.."lol u a bitch n*gga for even responding like that. Keep sucking this yung rapunxel d*ck u hairy curry scented bitch. imma start calling you punjab you dirty bitch."
"You a d— rider for real for real. Ride this d— until the wheels fall off Punjab."
She then suggested he was in One Direction for his race:
"lol u were the only paki in the group and you knew you were there for a reason. You were the the token brown boy. All those white boys in 1D disrespected you and made you their PET. You were only apart of 1d to draw brown attention. You are and ALWAYS will be a TOKEN to the UK."
"@zaynmalik still doesn't change the fact that your mother is a dirty refugee who won't be granted asylum. LOL @ZAYNMALIK IS A F*GGOT."
About that hate speech policy, Twitter?
Here are just a few of dozens:
@AZEALIABANKS why you been saying nasty things about me ? I wasn't talking about you lol ?

— zayn (@zaynmalik) May 11, 2016
https://twitter.com/AZEALIABANKS/status/730173000943841281
https://twitter.com/AZEALIABANKS/status/730173487365685248
https://twitter.com/AZEALIABANKS/status/730174819275280384
https://twitter.com/AZEALIABANKS/status/730273038541926400?ref_src=twsrc%5Etfw
https://twitter.com/AZEALIABANKS/status/730277045423489025?ref_src=twsrc%5Etfw