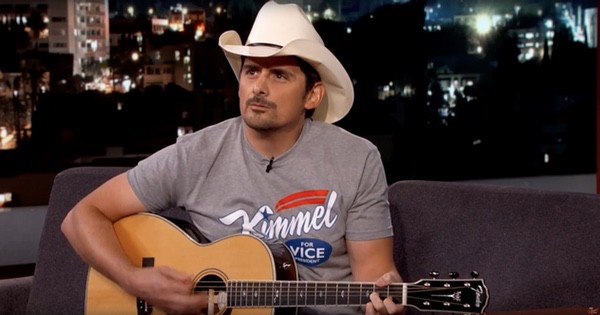 Last night, Jimmy Kimmel asked country star Brad Paisley if he writes any songs about current events. Turns out, Paisley had something very contemporary prepared.
"Country music dealt with this in the '60s," said Paisley, before diving into his own version of Tammy Wynette's 1968 classic "Stand By Your Man".
Sang Paisley:
Sometimes it's hard to be a woman
Especially when you were born a man.
In North Carolina, they're checking for vaginas…
…if you want to use the can.
(And I say) Sit by your man,
we're all just human beings.
He's just a human peeing…
in the stall right next to you.
Sit by your man
Why is this such a big deal?
Hike up your dress…and take a stand…
and sit by your man!
Watch:
https://www.youtube.com/watch?v=lhOC-9zZWMk
At the beginning of the segment, Paisley referred to Kimmel's "the thing in the beginning…the restroom logo," which was a man-on-the-street segment in which Kimmel attempted to see if strangers saw what he did in the gender neutral bathroom symbol:
https://www.youtube.com/watch?v=57wOyCSJDEQ
Paisley also performed his new duet with Demi Lovato, "Without A Fight:"
https://www.youtube.com/watch?v=bZULrUdhhHc