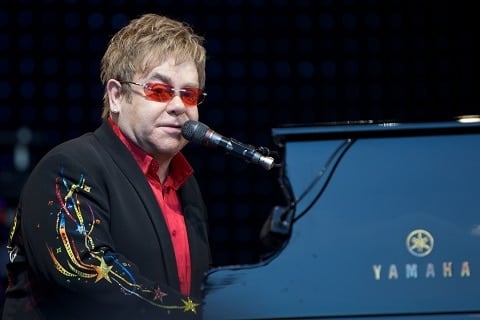 Elton John has written a letter blasting North Carolina Governor Pat McCrory for his "failure of compassion" for transgender people.
In an article which appeared Tuesday on The Hill, John took McCrory to task not only for signing the horrific 'bathroom bill' HB 2 into law, but for prioritizing the supposed threat posed by non-existent transgender bathroom predators over the real threats that transgender people face every day.
John writes, "What's worse than the discriminatory bill itself, and the millions in taxpayer dollars McCrory is wasting to defend it, is that the governor signed it after admitting he had never met a transgender person."
He adds that HB 2 sends a dangerous message to the LGBT community and to the world:
"It's a message we hear far too often. This brand of ignorance deliberately shuts out the perspective of an already marginalized community. It's dangerous, and it goes beyond bathrooms. As the father of two children, I would hope their world is free of discriminatory, hateful legislation like North Carolina's.
Forcing transgender people to use the bathroom of a gender with which they don't identify isn't just inconvenient or impractical. For many, especially young students still grappling with their transition, it can be traumatic, and at worst, unsafe."
McCrory's biggest failure, John says, is "a failure of compassion, a failure to recognize the difficult and frequently unwelcoming world transgender people must navigate every day, stigmatized by the fear and ignorance of others."
Transgender men and women are more likely to be exposed to HIV, to rely on sex work to make ends meet, to suffer violence violence, depression, and to have attempted suicide compared to cisgender people. Bills like HB 2 severely set back the fight against anti-trans injustice. "To address these problems, our leaders must first acknowledge their existence, as well as the existence of the people affected," John writes. "And yes, that starts with bathrooms."